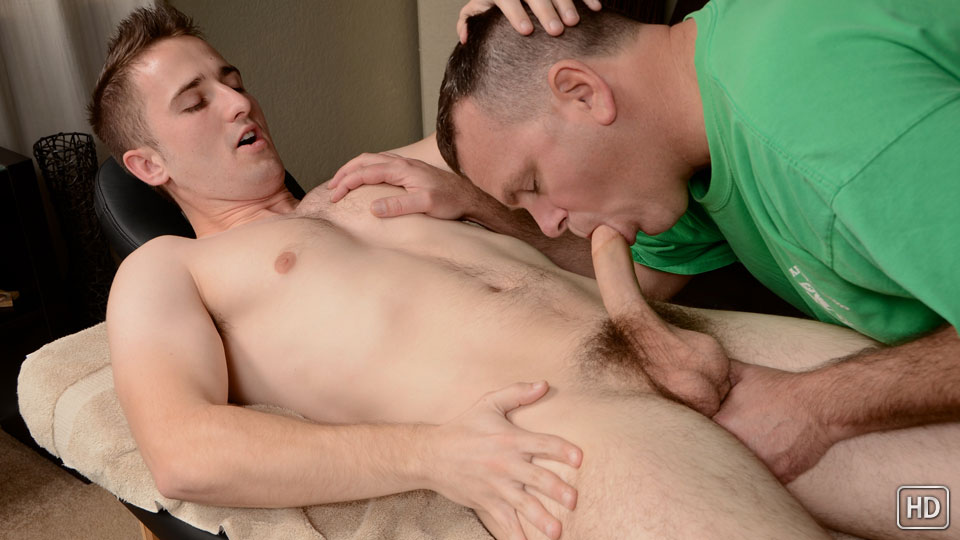 Watch the full scene:
Join Now!
College baseball player, Jordan, enjoyed his "surprise handjob" so much that he thought he'd be up for trying a happy-ending massage. In fact, in his words he was looking forward to it. There was certainly no doubt that I couldn't wait to give his bod a rub down.
Jordan had only gotten a happy-ending massage once before from a girlfriend. "Nothing professional, though" he said with a laugh. Thankfully, Jordan had saved up a load for the past couple days, so I had a feeling this was going to be a hot one for both (or all) of us.
He lay on the table and got his back oiled up. By the time I made my way from rubbing his back and shoulders, down to his hairy butt, Jordan's cock was already swollen and poking between his legs. As I spread his cheeks and gave his tight hole some special attention, he let out a quiet moan. Hearing that, you can bet my tongue wasn't far behind to rim his furry ass.
Jordan flipped over and was throbbing hard. As I rubbed his chest and nipples, just grazing his shaft with my hands and softly rubbing his balls, his cock only got harder.
Once I started stroking him, Jordan's moaning got louder. I leaned down to tease the head of his cock with my tongue. Jordan let out an "Oh, fuck" under his breath and he grabbed the back of my head, letting me know he was enjoying the ride.
I could tell that having his cock sucked was going to push him over the edge quickly, so I teased him by licking his balls and slowly working the head in my mouth. Jordan opened his eyes and said he was getting close. With a few more strokes, Jordan panted as a thick rope of cum shot clear up to his shoulder and covered his stomach in a puddle of jizz.