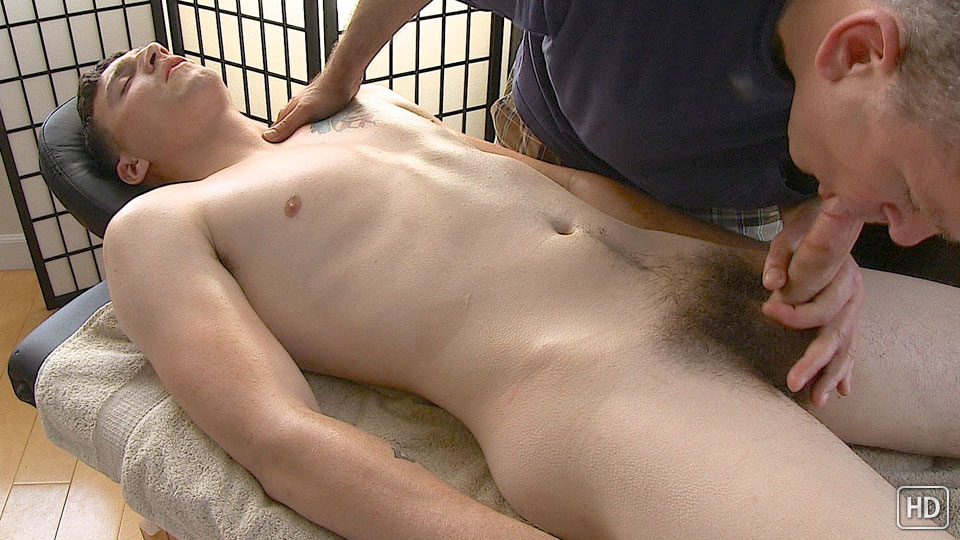 Watch the full scene:
Join Now!
Some of you may remember Ty from his first shoot. Ty still hasn't told any of his friends he's shooting porn now, which you can tell makes this 20-year old straight Marine a little nervous. But shit, this guy hasn't even gotten a happy ending massage yet, from a woman or a man, so you might expect him to be a little uneasy for his first time doing it on camera.
I asked Ty to take off his towel and close his eyes. He spread his 6'1 frame onto the massage table. I oiled up his smooth back, working my way down to his meaty ass and legs. I spread his legs wide and pulled his throbbing cock out from under him.
Remembering that Ty stuck a finger up his ass during his solo, I pulled his cheeks open and started fingering his hole, making him quietly moan. If you're an ass man like me, then you might just blow your load at this part of the video. This guy's smooth cheeks and hairy crack are perfect. It took all the willpower I had not to bury my face in it!
I flipped him over and oiled up his chest and arms. His cock was standing at full attention, begging for release, but he was here for a massage (wink, wink) so I made sure to give his legs, arms, and chest a good rubbing before turning my attention to the main event.
With his stiff cock in my hand, I mentioned that it looked like he was enjoying himself. "Oh, yeah," Ty replied with a smile.
"Is that alright?" I asked as I stroked faster and snuck a finger into his hole. He just nodded. Emboldened by the hardness of his cock, I put my lips on it and used my mouth and hand to stroke him. His breathing got faster, but I could tell that he was going to make me work for that load.
I lubed his cock up and massaged his prostate to push him over the edge. The intensity was so hot as Ty's body began to twitch. "Here it comes," he finally gasped before shooting a gigantic load all over his torso.