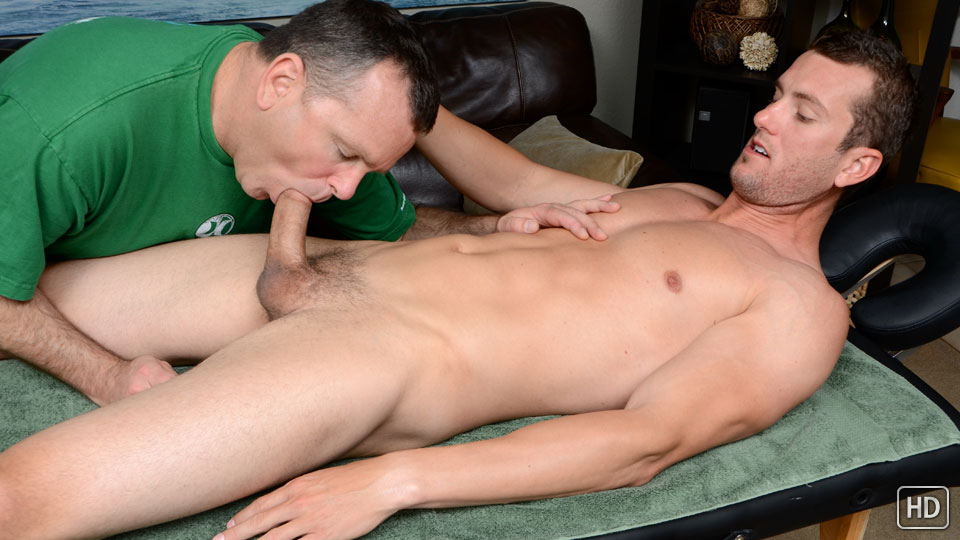 Watch the full scene:
Join Now!
Tommy showed up with a five o'clock shadow, looking fit and just a little bit dangerous. He seemed ready for his first massage from another dude. He'd gotten a happy ending from a girl before, but that time he paid for it and this time he was the one getting paid. Tommy seemed turned on by the idea of having a load stroked out of his cock and walking away with a big wad of cash for it.
I oiled up his smooth, thick body, stroking the expanse of his imposing back. Of course, I made sure to end each stroke near his ass, cupping it with my hands. I spread his legs wider so I could get better access to that crack. I oiled it up some more, stroking my hand into his crack and then reaching under him to reveal his monster meat.
When Tommy turned over, his stiff dick was standing at full mast: 7 inches long and 6 inches around, nice and girthy. A perfect cock for sucking.
I lubed up his chest and arms, enjoying myself as I ran my hands along every inch of his 6'1 frame. But it was his cock I kept coming back to, hard as a rock, ready for some attention.
I took it into my hands, teasing it for a bit before bringing my tongue down to taste it. I started slow, taking just the head into my mouth, licking his ripe balls, and then I really went at it. I jerked him as I sucked, taking him down to the base, feeling that cockhead up against my throat, ready to burst a hot load.
I kept massaging his body as I sucked him, moving my hands from his powerful chest to his muscular legs. When he announced he was gonna cum, I pulled my mouth off him so we could get a good view of the load. And it didn't disappoint.