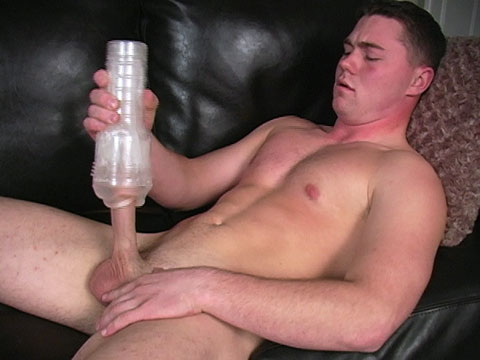 Watch the full scene:
Join Now!
Brent has never used a sex toy before, preferring, in his words, "My own hand, or a real pussy." When I showed him the Fleshlight and asked if he'd want to give a whirl, he stuck his fingers inside and immediately gave an enthusiastic YES!
As he slides the Fleshlight down his cock for the first time, the look of amazement on Brent's face is priceless.
"Oh my god. This feels just like the real thing," he says.
Brent starts exploring different ways of playing with it and teasing the head of his dick. Then, standing up, does a side-by-side comparison next to his dick and it's a pretty close match in length.
After bending over for some hip-thrusting fucking, Brent lies back on the couch and, with a 2-handed grip, starts really going to town. He pulls the Fleshlight off at the last second and shoots a thick load that lands all the way up his chest.
Tags: Fleshlight, Hung, Muscular