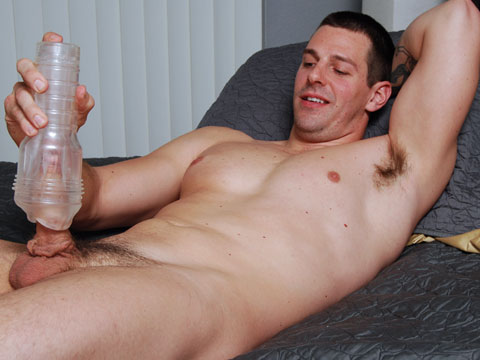 Watch the full scene:
Join Now!
David's only experience with a toy, up until now, was with a tiny plastic sleeve his wife had bought for him at a "sexy party." And David is a pretty well-hung guy-- a good 8 inches or more.
"Every time I'd move, I'd pop out of it," he explained.
When he told me that story, I had a great idea. I pulled out a FleshLight and asked if he thought it would be big enough for him.
"Now that's what I call toy!" he said with a chuckle. "I think that should do the trick."
Even then, his dick nearly hits the back end of it when he shoves it all the way down! He works up a sweat bracing it against some pillows to fuck the FleshLight up on his knees, then lies back and blasts a load all over his stomach.
Tags: Fleshlight, Hung, Muscular