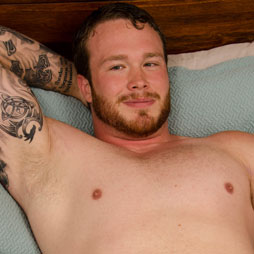 Age: 25
Height: 6'
Weight: 215
Shoe: 10 1/2
Cock: 8 1/2" x 5 1/2"
Orientation: Straight-curious
My impression of Niall was that he was curious about exploring things with guys. I might be more curious than him, though, about how far things might go.
I've learned that "never" is a term not to be used in this business, but as of now Niall seemed reluctant to take the next step ... at least on camera.
Who knows, though? We could see this ginger hottie sooner than any of us imagined, including Niall, if the right mood strikes.
Tags: Hung, Redhead/Ginger, Muscular
Videos
Photos