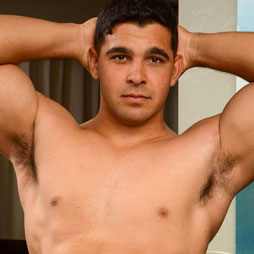 Age: 21
Height: 5' 10"
Weight: 220
Shoe: 9 1/2
Cock: 7" x 5 1/2"
Orientation: Straight
"Wow."
That's what I kept saying, over and over, when Colt was posing for his photos.
I'm not necessarily a guy who's all into muscles, either. But when someone like Colt shows up and has a hard time pulling his t-shirt off because his biceps are so big... well, you just gotta step back and appreciate.
With any luck, we *will* be seeing more of Colt. It might take a small fortune to get him to go further. If you want to see it happen, make sure you put in your contribution (by signing up) and maybe some fan mail to grease the wheels.
Tags: Muscular
Videos
Photos
Bonus Scenes