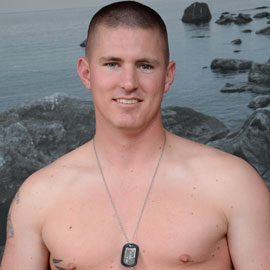 Age: 24
Height: 6'
Weight: 190
Shoe: 11
Cock: 8" x 5 1/2"
Orientation: Straight
Eli is one of those guys who, frankly, makes my job difficult. That is to say, it was hard to concentrate on holding the camera steady once he started taking his clothes off!
He's the recruiting-poster, next-door military guy I just love, and in addition to being some serious eye candy, he was all about business, making sure to leave a good first impression. I have a feeling we'll be seeing him again.
Eli, though, seems like he's pretty dead set against doing anything more than jerk-off stuff. Mark my words, I am going to actually hold my breath on this one in hopes that it'll be a barrier he'll cross given the right incentive. If I happen turn blue in the process, I think it'll be worth it!
Videos
Photos
Bonus Scenes