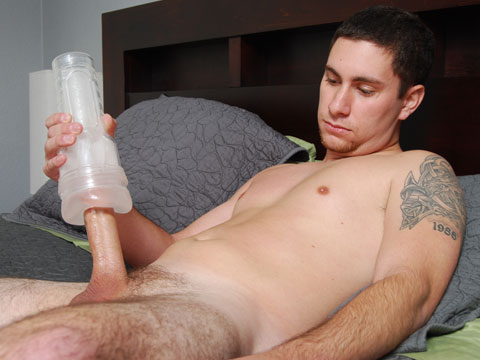 Watch the full scene:
Join Now!
Brad Knight is now an AVN award-winning star in the straight porn world. But before he was "Brad Knight", he made his debut right here as "Brad" back in 2010.
You may have already watched his first ever solo video. During all this extra time of stay-at-home Covid-ness, I came across another shoot with the up-and-cumming Brad Knight that, for nearly a decade, had sat on a dusty shelf. At long last, it is seeing the light of day!
Brad had never tried a Fleshlight before and was so intrigued when I asked him about coming back to give it a try that he went home and did some research on it. He wasn't sure that the price was worth it, at first.
"I can't imagine for $70," he said, "it can't be much better than jerking at home for free."
At least that was his impression before sticking his thick 8-incher in it. He filled that Fleshlight up!
Brad started finding his groove when the toy was propped up on some pillows where he could thrust his hips into it. Even so, you can tell that he was still getting used to having a camera pointed at him. Like most of the guys, he was a little shy about showing off at first.
Once he got the go-ahead for the cumshot, Brad pounded the fuck out of the Fleshlight, pulling it off just in time to spray his chest with a massive load nearly hit his face.
Tags: Fleshlight, Big Cumshot, Hung