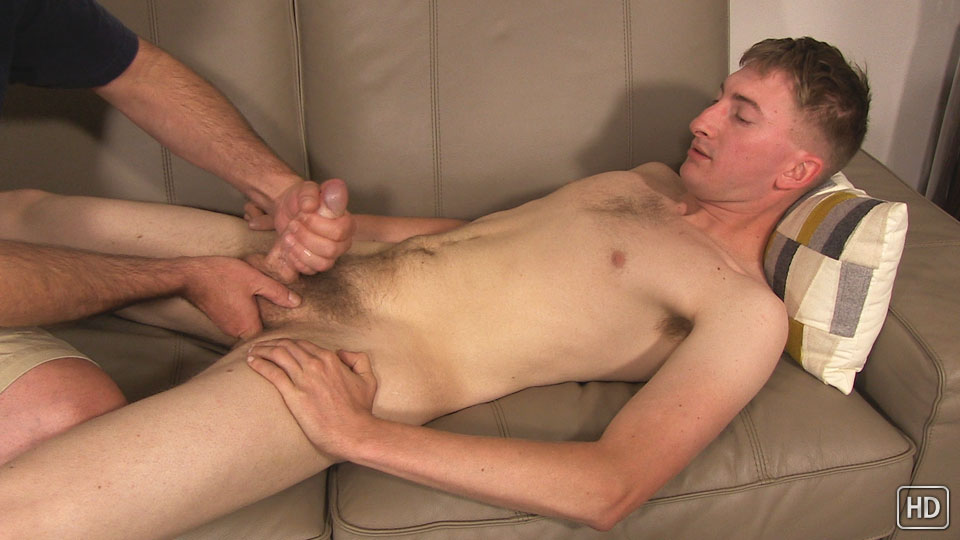 Watch the full scene:
Join Now!
Caden is a 23 y/o military guy who hadn't really ever considered doing porn. Apparently, a couple of his female friends made his mind up for him. They had run an ad on a dating/hook-up site for Caden in an effort to help get him laid. When one of the responses they got was from a scout I work with, they passed the offer along to Caden and told him to go for it.
Caden is kind of a nerdy guy (and I say that not trying to sound mean) who's really into gaming. He's not really into sports. Not really an outdoorsy type. But another example of a skinny white guy with a pretty big cock.
When he showed up, he seemed completely un-phased about getting naked for the world to see. Military life kind of numbs guys to that, he said. But what was surprising to hear was that he'd been saving up for a week before the shoot. Knowing that, it was not surprising at all that he was popping a boner when he unzipped his shorts and a dab of precum was already forming on the tip of his cock.
Caden didn't even want porn playing in the background. That's rare. Like, really rare. And any time he started to go even a little soft, with just one or two tugs he was rock hard again.
When I asked if he'd ever measured his dick, Caden said he'd only held it up next to those big energy drink cans. After the measuring tape came out, I could see why he used those to compare -- he's about 7 inches long and 5 1/2 around. And was growing bigger the longer I held onto it! With a little lube, Caden's body started twitching as I gave him a few more strokes.
"I'm close," he said.
And within seconds, Caden's whole body convulsed while pulses of cum splattered his chest and stomach.