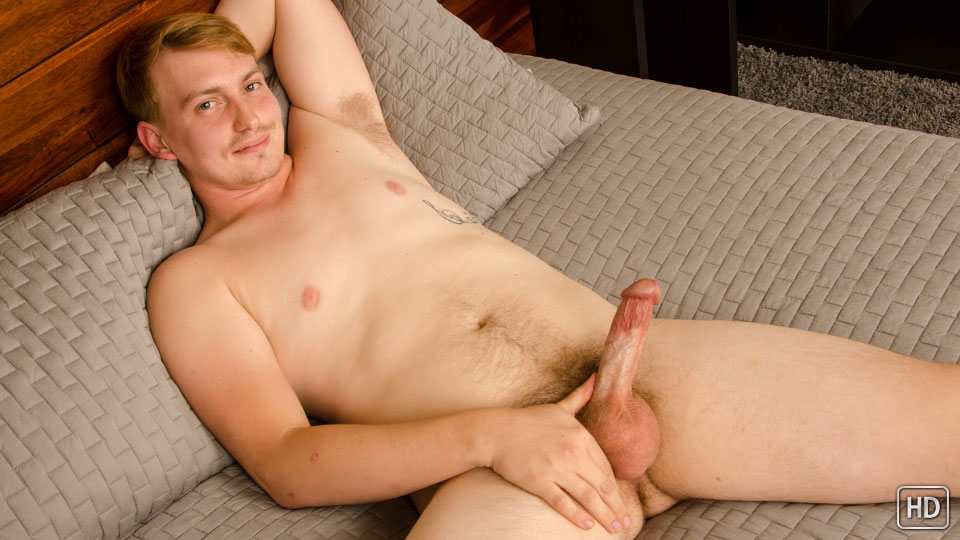 Watch the full scene:
Join Now!
Darrick had been thinking about doing porn for a while. He brought the idea up to his fiance who gave him a thumbs up, so Darrick got in touch to see about setting up a shoot.
He was so excited that on the ride over to the studio, Darrick said he was getting a boner just thinking about showing off on camera. He did fine during the still photos, but once all the lights were on and video cameras were pointed at him, his nerves kicked in big time for the interview part of the shoot. I probably could have edited it to make the chit-chat go a little smoother, but I found it a little endearing to see him battle with what I'm sure was an overwhelming experience for him, doing porn for the first time.
Darrick came out to San Diego with the military. He even told a few co-workers that he was booked to do a porn shoot. They mostly were excited for him and told him to go for it.
"There was one guy who said he was going to look me up and try to find me," he added, "which I thought was kinda weird because he's straight."
Something tells me Darrick is just the kind of guy who would put the curious straight guys at ease. Even back when he was in high school, he and the football team's quarterback had a roll in the hay.
Once the talking part was over, his nervousness was out the window. He'd been saving up for a couple days and, for a guy who jerks off 3-4 times a day in addition to sex with his fiance, I'm sure he was horny AF and put on a helluva hot solo shoot.
Fingers that started out rubbing his hole slowly made their way inside which seemed to be just the magic button to get him up to the edge. Darrick got up on his knees, shoved a couple fingers up his ass and in a sweaty finish, unloaded a hefty cumshot onto the bed.