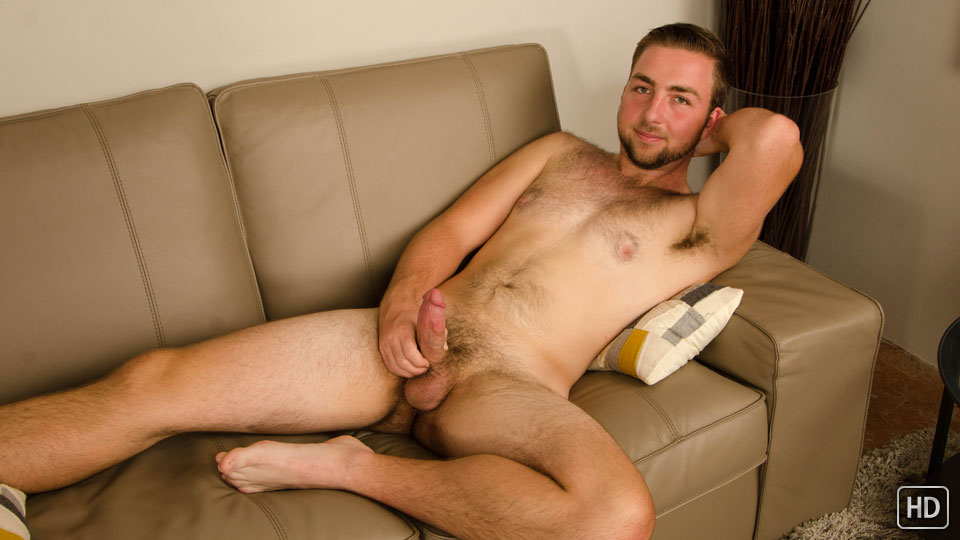 Watch the full scene:
Join Now!
Foster is a So Cal native. And his thick and tall, 6' 1" stature caught my eye when I saw him at the mall one day. After striking up a conversation, I ended up slipping him a card along with the "How'd you like to do porn?" line. He was a little apprehensive at first, but his eyes lit up when the talk of money came up.
It was hard to believe at first that Foster was 18 y/o and had just graduated from high school. Now in college, he was more than happy to drop trou' for some quick cash.
Back at the studio, he was anything but shy about showing off, admitting that he loves being naked. Foster even likes going to the local nude beach. Having a camera pointed at him while stroking his cock made him grin more than once, as if he couldn't believe he was being featured in his first porn shoot.
He's one hairy dude and, thankfully, hates shaving his body hair. He was surprised to hear that people liked the bushier look in porn, but I assured him that it was true.
Foster normally jerks off at least once a day and laughed that saving up for just 2 days before the shoot was driving him crazy. Needless to say, he was horny and ready to go almost the second his shorts came off. I had to stop him once from cumming too soon. At least before the measuring tape came out to get the "official" measurement on his cock: 7 inches long and 6 around. Plenty thick.
Once he got the go-ahead for the grand finale, Foster took a couple minutes to get up to the finish line, but it was hot to watch the build up. He reached down to play with his balls which seemed to push him over the edge. Foster shot a thick load onto his furry tummy and all over his pubes.
Tags: Hairy