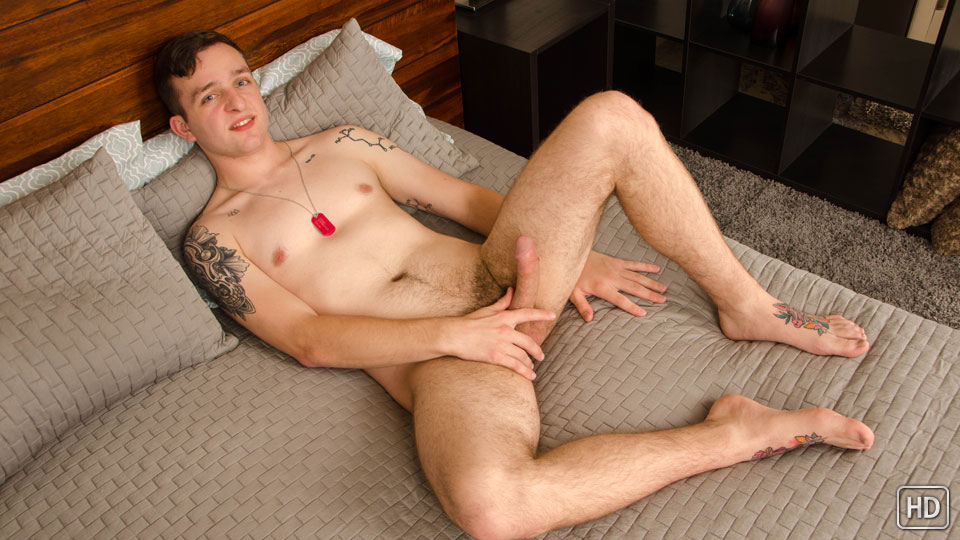 Watch the full scene:
Join Now!
Dixon is a recent transplant to So Cal from a small town in the Midwest. His job brought him out this way; the dog tag probably gives away his line of work.
He'd thought about giving porn a shot for a while and once he hit the west coast, figured that now would be a good time to take the leap. He'd only told one friend about his plan. But it didn't seem to come as much of a surprise to them that Dixon was going to shed his clothes for the world to see.
Dixon was on the swimming team in high school, but it was science that seemed to be his passion. So much so that he'd collected a few tats of symbols he'd picked up from his organic chemistry classes.
"Yeah, I was a super-nerd: Science Bowl, all the nerdy shit," he admitted with a laugh.
When we spoke on the phone and I'd asked Dixon to "save up" for the shoot, he definitely took it to heart. For a guy who normally rubs one out 2-3 times a day, after three days he was visibly itching to get the poison out. As we started doing photos, Dixon was already sporting a raging boner that was dripping with pre-cum even before he'd pulled it from his pants.
As horny as he was, even after teasing himself all the way up to the final go-ahead, Dixon was having a little trouble getting over the edge. That was until he spread his legs and started fingering himself -- the magic button, apparently. Within seconds of stimulating his hole, Dixon was panting and moaning while stream after stream of cum shot out of his cock, landing clear over his shoulder and covering his face and chest.
Tags: Big Cumshot