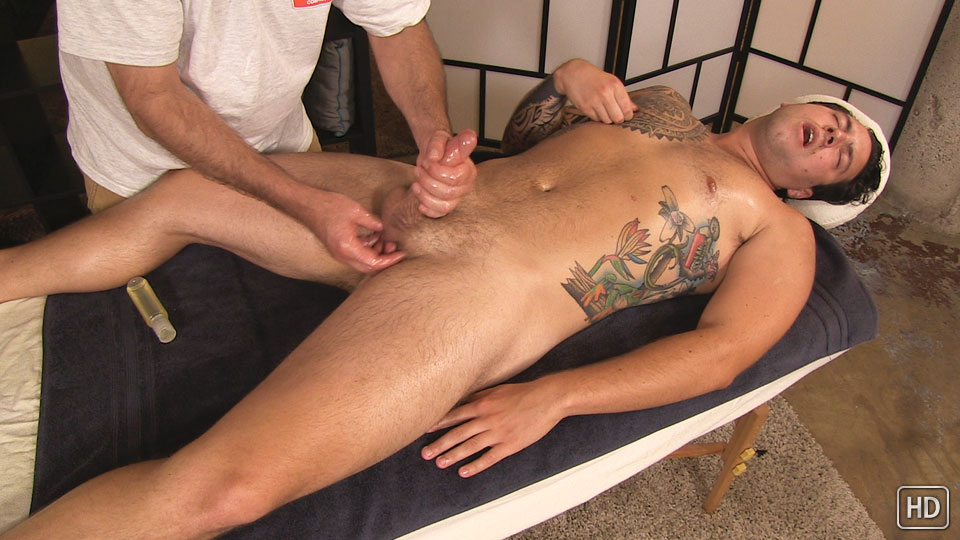 Watch the full scene:
Join Now!
When Jerry heard about the happy-ending massage scenes, he barely hesitated before saying he'd be down for doing one. It took a couple weeks after his solo to get it set up because he was doing a road trip to visit some of his Marine buddies, but the day after he got back he sent a text asking when we could do it. To say he was excited might be an understatement.
Jerry had gotten a couple erotic rub-downs before. His only regret seemed to be that they put a dent in his wallet, so the prospect of getting some release and walking away with a pile of cash this time couldn't have sounded better.
He'd even saved up a 3-day load to get the most of it. And no sooner was he naked and laying on the massage table than his thick cock was growing with every pass of my hands across his body. Jerry made a few quiet, appreciative moans as his ass cheeks were spread to give his hole some attention with my fingers.
As horny as he was, the build-up to get Jerry to the edge wasn't anything short of explosive (much like his last shoot). Without saying a word, he reached up to tweak his nipples when he could feel things ramping up. His breathing got noticeably heavier when I seemed to find the "magic button" and slipped a finger up his ass. Jerry writhed in pleasure as his cock responded by pumping out a seemingly endless load of cum onto his stomach.
Tags: Hairy, Stocky/Husky, Massage