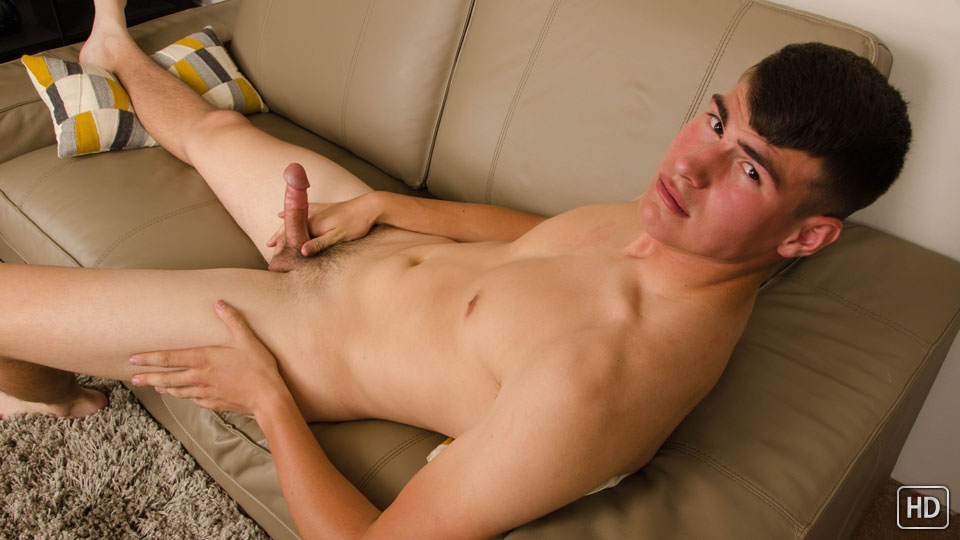 Watch the full scene:
Join Now!
Ricky started thinking about trying his hand in porn about a month ago. He'd told a couple buddies about his idea for a side job and after both gave him enthusiastic thumbs-up he got in touch to set up his first ever shoot.
His beaming personality was infectious. Ricky is a joker and talker, for sure. His tall, 6' 3" stature commanded some attention when he walked in the room (not to mention his size 15 feet!) And being a swimmer through school, he wasn't too shy or nervous about shedding his clothes.
Something told me that even beyond the clothes-free atmosphere of the locker room, Ricky has had a nonchalant attitude about how or when or who was seeing him naked. Back in middle school, he and his best friend used to hang out and jerk off together while sharing the porn they were watching: "Hey, what are you watching? Send me that link!"
Ricky put some thought into his porn debut, even asking his buddies what they thought would look good during his shoot. They told him to try stroking his cock backhanded. It was, I'll admit, a nice touch. Overall, I'd say he nailed it. I even had to stop him a couple times because I was convinced he was going to cum too soon. Nope. He was just really getting into it for the cameras.
Like a trooper, he saved up a couple days worth of a load, too. When it was time to get that poison out of his balls, Ricky really went to town hammering on his cock. His whole upper body was flushed red as he got to the finish line and shot all over his smooth stomach while he panted out of breath on the couch.