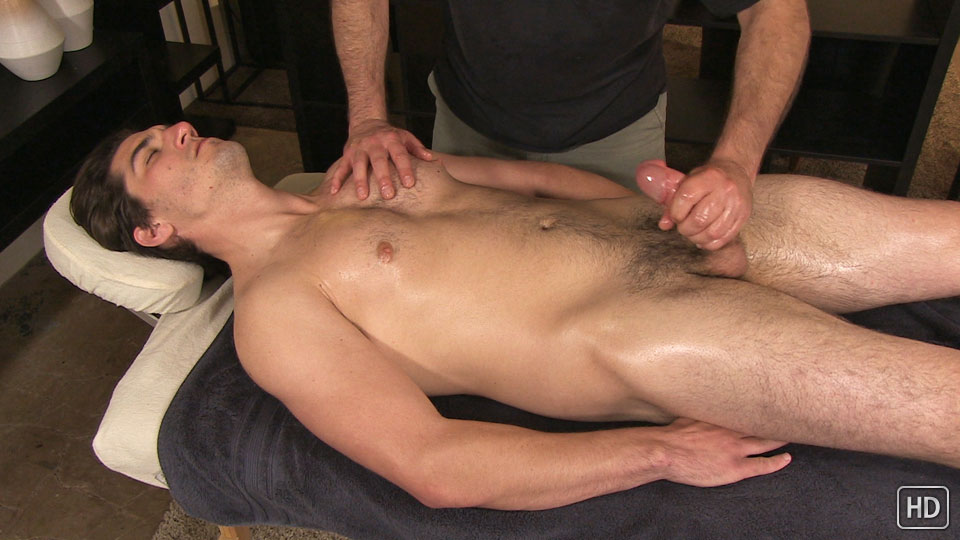 Watch the full scene:
Join Now!
After his solo shoot, Brock had asked about what else he could do to make some money. As comfortable in his skin as he is, I wasn't too sure how well he'd take to the idea of getting a happy-ending rub down from a guy. A few weeks went by before he decided that a wad of cash was worth the mental leap he'd be taking.
"I had think about it, but I've gotten one in the past before," he explained, "so I thought, why not?"
When he lay face down on the massage table, I'd barely started rubbing down his back before the mushroom head of his cock had swollen to a thick bulb poking out from between his legs.
Flipping over onto his back, Brock made quiet, appreciative noises while my hands moved across his chest and down to tease his dick with close passes that got him rock hard. He's got handful, for sure - it's one of the thickest I've ever wrapped my hands around.
I slowly started ramping up the pace of stroking him, and Brock fell right into the rhythm, thrusting his hips into my hands as his breathing got heavier and heavier. It took a minute to bring him up the edge, but it was worth every second watching his intensity build. And when he got there, the cumshot was amazing, with two huge squirts that flew clear over his shoulder and landed on the floor behind him!
Tags: Big Cumshot, Massage