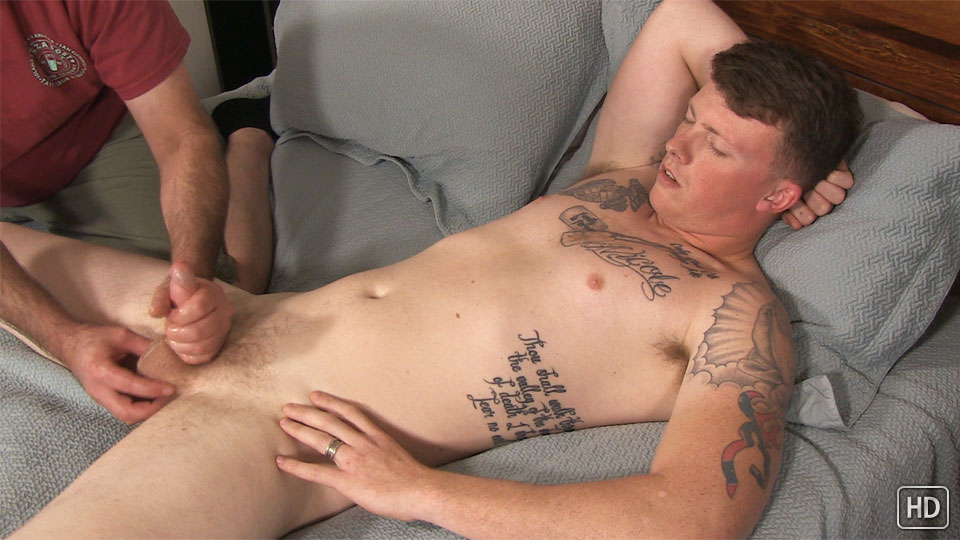 Watch the full scene:
Join Now!
You might think of this as a flashback shoot since Bryson has already shown up on the site. This one is actually the first time he showed up and how it all started.
Bryson, you might remember, heard about doing porn from his buddy, Anthony. He'd always thought about getting nekkid on camera, but never really knew how to make his break. As they say, it's not what you know, but who you know that matters! Anthony showed him the way in.
Bryson is str8, married (to a girl), a former football player, and found himself out in San Diego from the midwest courtesy of the military. In an interesting twist, he actually brought his wife along for the shoot. She sat in the background, mostly just absorbing the whole thing. At first, at least.
Being on camera for the first time was a little awkward for Bryson, especially since he had an audience sitting in the sidelines. Even though he'd "performed" before when he and his wife put on a show and fucked while his buddies watched. He was on the quiet side and seemed a little unsure about jerking off for the world to see.
When it was time to get ready for the big finish, I thought I'd pull out the ol' measuring tape and just see what would happen. Bryson presented his cock like it was lining up for inspection. After a couple of extra tugs on it, I asked his wife it would be alright to finish him off.
Her response: "Go for it!"
Bryson's eyes darted between the porn playing in the background and back down to his dick. After a minute of stroking him, his heavy breathing was a sure sign. Bryson let out a final gasp, "Here it comes."
Tags: Helping Hand, Redhead/Ginger