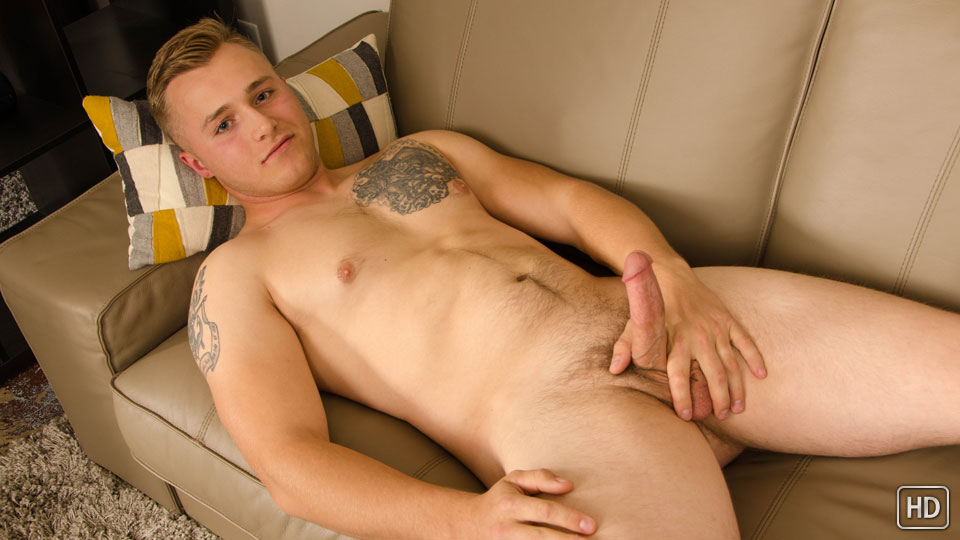 Watch the full scene:
Join Now!
Dalton is a transplant to So Cal from a smaller town on the east coast. We'd been talking for a good handful of months before he made the leap and showed up for his first porn shoot. A deployment got in the way for a while, but good things come to those who wait. During that time away he turned 20 y/o and packed on some beefiness as the guys tend to do when they're overseas.
Over the couple days before his shoot, Dalton sent a flurry of text messages saying how nervous and excited he was about bearing it all on camera.
"Shouldn't be a problem," said one message, "cos I can get hard really easy."
He wasn't kidding about that. No sooner did he peel off his jeans and start playing with his cock, it was standing at full mast and so hard that his dick was pulsating.
He'd been thinking about getting into porn since he first found his dad's stash and started jerking off at a very early age. So, as nervous as he thought he might be, his inner pornstar apparently won out and Dalton really got off on the experience of showing off his stuff. A real natural in front of the cameras.
Dalton also mentioned that he was a bit of a shooter, even on a normal day. Leaving nothing to chance, he'd saved up for a couple days ahead of time (just in case). And, wow, what a load. Powerful streams of cum shot all the way up to his neck and continued to soak his torso as his body convulsed on the couch.
Tags: Big Cumshot, Blond