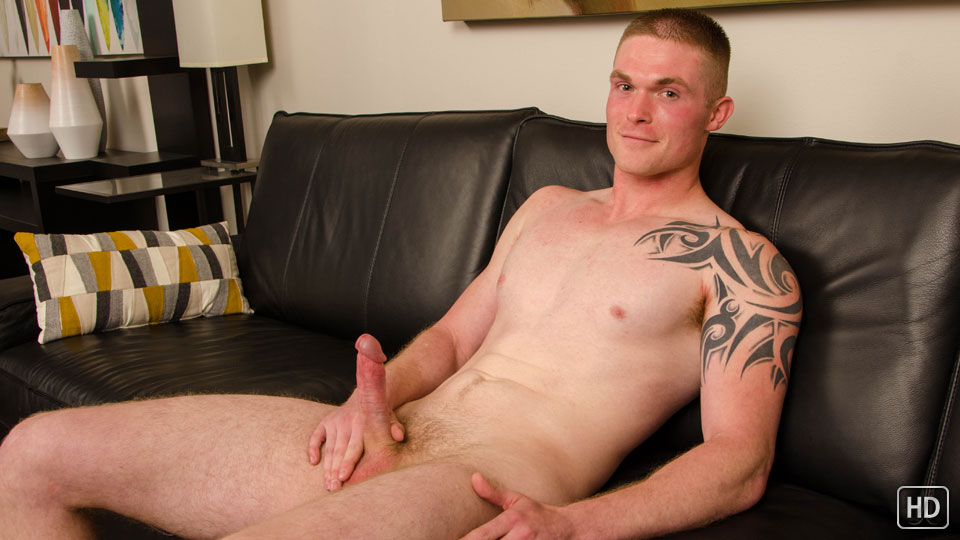 Watch the full scene:
Join Now!
Logan was visiting San Diego on a work related trip and suddenly got the bug to do porn. He's 24 y/o, married, and figured while his wife was on the other side of the country that he'd make a little extra money showing his uncut cock to the world.
I'd like to say I spotted Logan out at one of the many local hangouts in town, but the truth is that he actually did some homework and sought out the site on his own. He'd even started saving up a load for his porn debut - a whole week by the time he came in!
When I told him it would turn some people on if he wore his wedding band, he pulled the ring out of his jeans and slipped it on. He was eager to make an impression.
Military life seems to create the craziest of stories, and the one he told blew my mind. Logan and another buddy did a jerk-off race in the barracks once. With money on the table on who would bust first, the two of them went at it while the rest of the platoon rooted them on. If you were wondering, Logan won the contest.
That was about how this shoot went. Logan was cool and collected from the start; his dick was hard in about 10 seconds flat. And when he got the thumbs-up for the grand finale, he focused for a minute and ended up shooting a massive load. Stream after stream of cum coated his chest.
Tags: Big Cumshot, Uncut, Redhead/Ginger