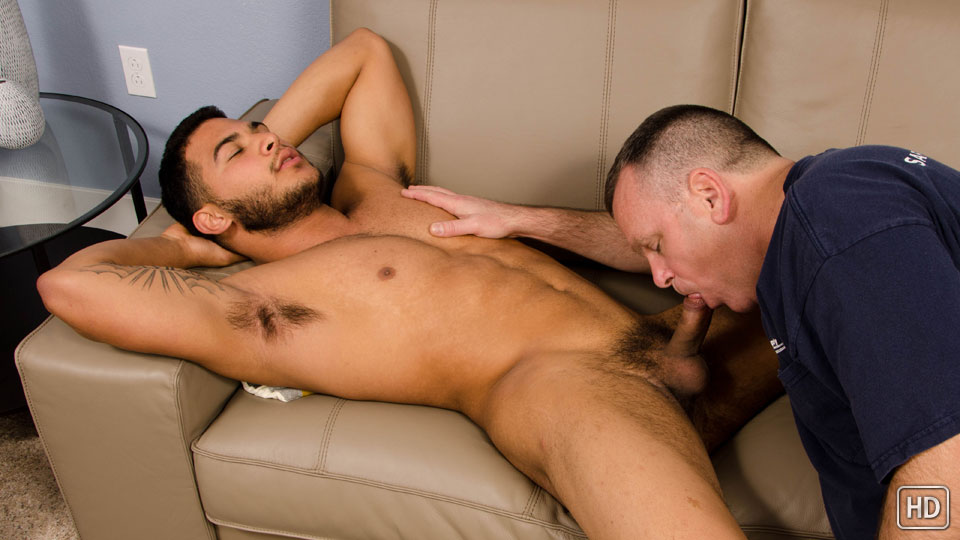 Watch the full scene:
Join Now!
After the initial mental leap of getting jerked off by a guy last time, Chewy sure had relaxed about doing guy-guy scenes. When I hit him up about getting serviced, he sounded almost like he was looking forward to it. And judging by the stiff cock hiding behind his shorts, I'm pretty sure he was.
Chewy is a guy who plans ahead. He'd saved up for "quite a while" for the shoot. At just 18 y/o, I have to say that I was impressed that he stored up a load for as long as he did to make sure it was a good show. So far, every cumshot he's done has been explosive, and this one was no different.
His big worry was about getting rimmed. If you saw his massage video, you'll remember he wasn't too keen on the ass play. I told him that, like it or not, it was going to happen; it's just part of the scene. Because, c'mon, who could possibly pass up eating an ass like that? And, despite some giggles from Chewy at the newness of it all, the expression on his face showed that we had another sold customer on the rimming.
Getting Chewy over the edge took some work, but who am I to complain? The build-up alone is worth watching as he pulled his arms behind his head, ready to blast his load. The intensity on Chewy's face grew and grew until, finally, he barely whispered that he was going to cum. Streams of jizz shot out, just barely missing his face.
Tags: Oral, Big Cumshot, Uncut, Muscular