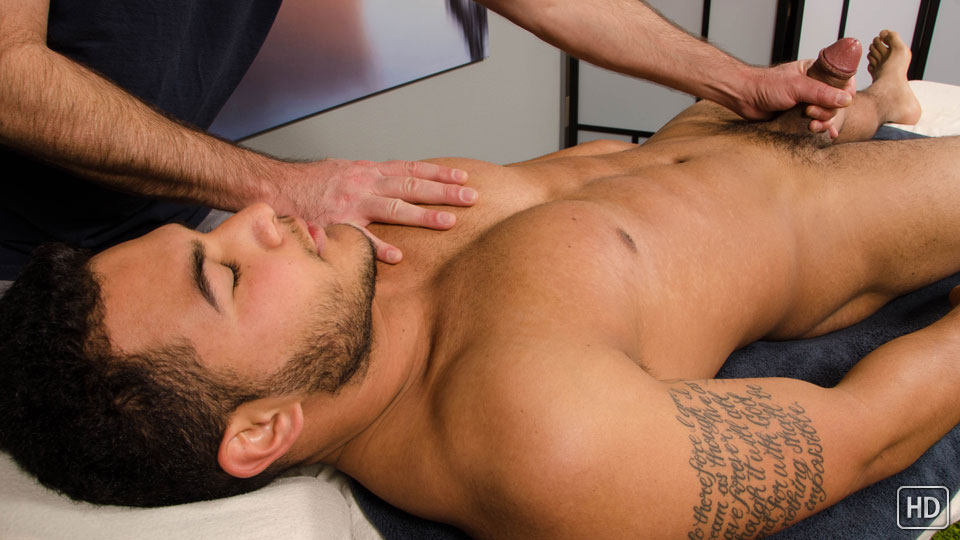 Watch the full scene:
Join Now!
Oh, boy, was Chewy ever nervous about this shoot. If you've been following his previous scenes, you know he had just discovered that he really liked showing off his bod in front of the cameras, but wasn't too sure about taking the next step. When I assured him that he just had to lay on the massage table, close his eyes and fantasize about whatever he wanted, he decided to give it a shot.
Chewy had never done anything with a guy before. "Not even close," he said as he nervously fidgeted when things got going. Having just barely gotten out of high school, it's not too surprising. This football jock was going for a long pass today.
The tension was pretty obvious when my hands went from his shoulders down to his ass. His muscular butt cheeks clenched up when I reached to coax his cock from beneath him. He relented after a minute, giving his furry hole a quick expose.
Chewy's front side was all fair game, though. After only a few quick tugs, he was hard as a rock. We even had to stop at one point 'cos he was getting so close to cumming. Between that little edit I asked what he was thinking about -- one of his high school teachers, of course. Dirty boy!
Since this was his first time get stroked by another guy, Chewy (wisely) saved up for the shoot. But with five whole days of cum stored in his nuts, I just knew we were in for a very grand finale. And the jizz flew big time, shooting over his shoulder, hitting his hair and beard along the way, and covering his whole chest in sticky goodness.
Tags: Big Cumshot, Uncut, Muscular, Massage