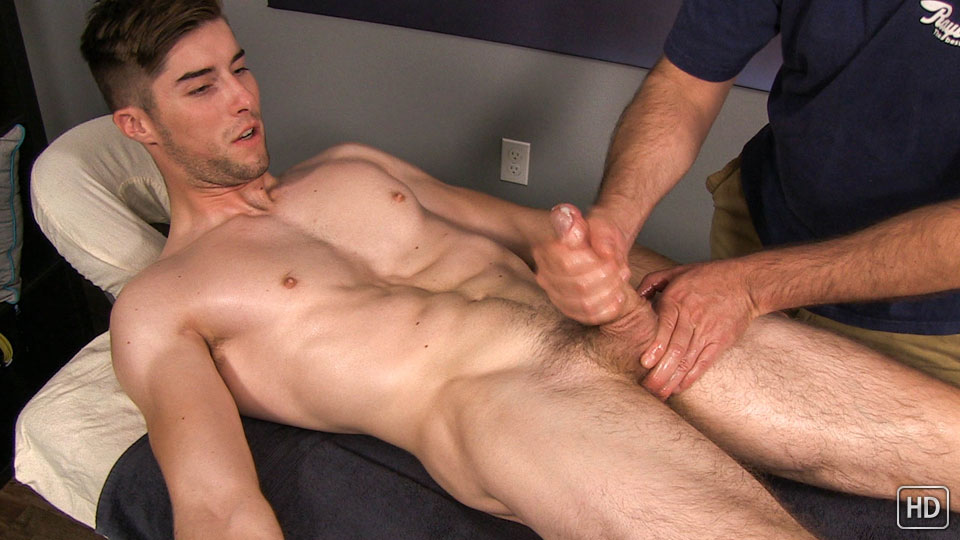 Watch the full scene:
Join Now!
Garrett was all fired up after doing his solo shoot. You'd never have guessed it (I know I didn't), but he said was actually pretty nervous about it beforehand. He had so much fun jerking off on camera, though, that right afterward he was asking, "Okay, so what's next?"
Usually the happy-ending massage scene is a nice, easy way to break the str8 guys in for their first guy-guy experience, so I mentioned that as an option. Garrett said he'd give it some thought. Even though he'd gotten one on a an overseas deployment from someone he referred to as a "lady-boy," he still took some time (and some back-and-forth negotiation about the money) before making the leap to doing it on camera. And then the text came: "Okay, let's do this."
When the cameras were rolling, Garrett even joked that this was going to be an easy shoot after making the initial mental leap: "I get to just lie down, get a massage, and get jerked off. I mean, easy life!" he laughed.
Whatever was going through his head seemed to be working. As soon as my hands were rubbing across his body, he quickly reached down and re-adjusted his cock that was getting harder by the second. When I pulled it between his legs from under him, it only took a few quick teases to get it rock solid.
Garrett was deep in his fantasy for most of the shoot; eyes closed and pretty quiet. When he got close, though, that changed. He suddenly looked down at his cock and whispered, "Harder."
With a firmer grip around his shaft, it was only a matter of seconds before Garrett moaned as cum exploded from his dick, shooting all the way up his chest as he writhed on the massage table.