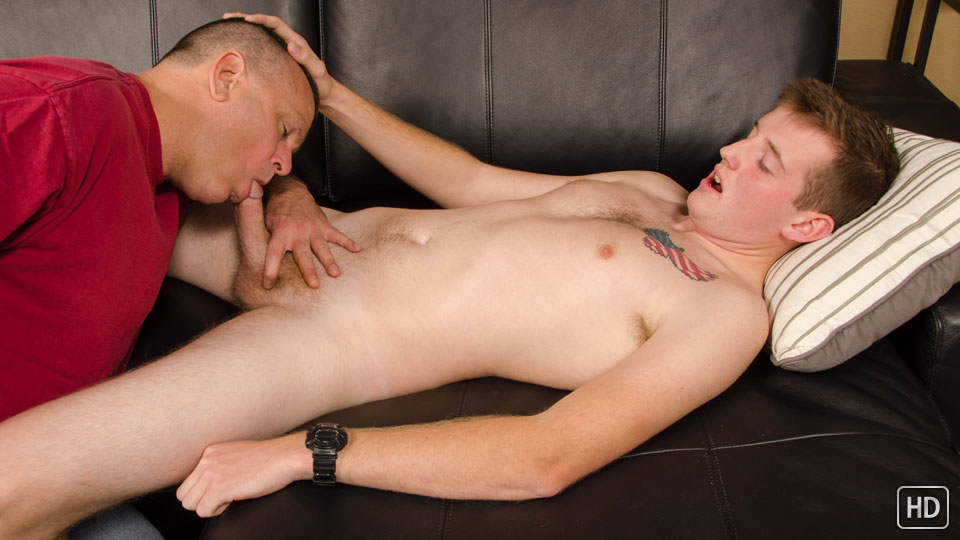 Watch the full scene:
Join Now!
Kenny is back! It took him a minute to take the next step in his porn adventures and get his dick sucked by a guy for the first time. Maybe the initial leap into doing guy-guy scenes (after his happy-ending massage) greased the wheels. Maybe he got a taste for the money. I have an inkling, though, that Kenny was starting to enjoy the rush of getting naked on camera. Regardless of the reason, when he sent a text asking about doing the next scene, you can bet I had the cameras set up in no time.
Kenny seemed ready to roll, too. By the time his shorts were unzipped, he was already sporting a semi-hardon. A few teasing sucks later, it was standing at full mast. He seemed to show some uncertainty at first, as if he was enjoying how good it felt, but conflicted that it was a guy down there making his cock feel so good.
Well, that "uncertainty" went flying out the window after just a minute or two. Right around the time I deep-throated his thick dick. Something tells me that the girls he'd been with haven't been able to take it all the way down 'cos the look on Kenny's face was priceless.
Kenny is one of those str8 guys who's a little "butt phobic." We even joked about it in his behind-the-scenes clip. So when I told him that he'd be getting rimmed he wasn't exactly thrilled about the idea. And then it happened. I pushed back his legs and buried my tongue in his hole. Kenny responded with a gasp as if he finally realized what he'd been missing. I love introducing str8 guys to their magic button.
It took some work to get Kenny to the finish line (not that I minded, believe me). At the end, Kenny closed his eyes, his cheeks flushed red as he got close to cumming. What pushed him over the edge? A couple fingers between his ass cheeks rubbing his hole. Within seconds, Kenny's cock erupted with cum that pooled up on his ginger pubes.
Tags: Oral, Redhead/Ginger, Blond