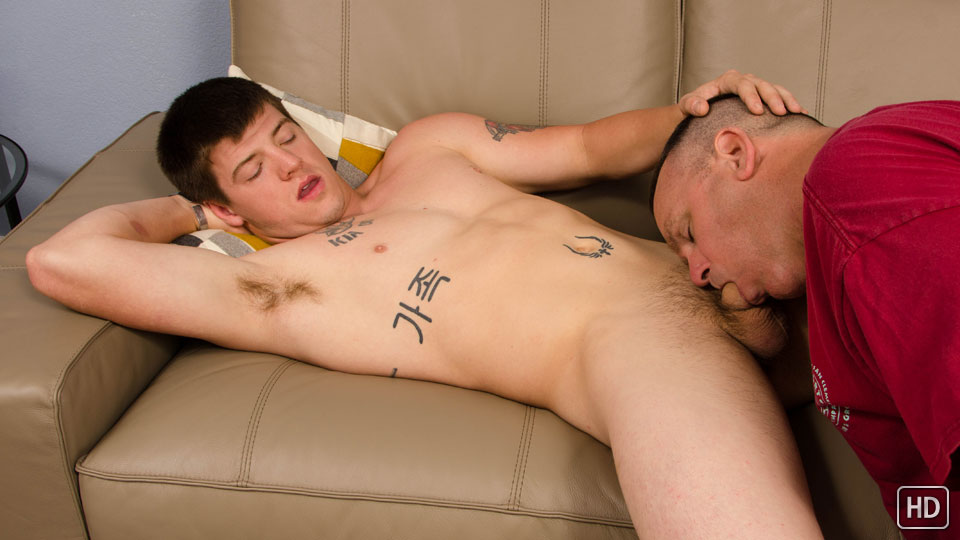 Watch the full scene:
Join Now!
I'd been wondering if Landon was going to get in touch again when, out of nowhere, I got a text asking if he could do a BJ video. Duh!
Landon may have been more excited about it than me. He walked in with a boner pitching a tent beneath his shorts, and he was fidgeting and playing with his cock the whole time the cameras were getting set up. This boy was ready.
Last time, for his massage scene, Landon got a little sample of some ass play and it seemed to get him off. After sucking on his cock for a few minutes, I pushed back his legs and buried my tongue between his cheeks. The magic button was hit and Landon's facial expression said it all.
Things heated up when Landon stood, grabbed the back of my head and pummeled my throat. Thrusting his hips toward my mouth, he had found his groove. With his eyes squeezed shut and head rolled back, Landon looked like he was in heaven.
As horny as Landon was, it took some work to get him to the edge. (Not that I'm complaining.) Landon reached down and held my head while he fucked my face. He was so lost in the moment that he barely whispered that he was going to cum, just in time for me to pull off and let him blow a super thick load that oozed down his cock and the side of my hand.
Tags: Oral