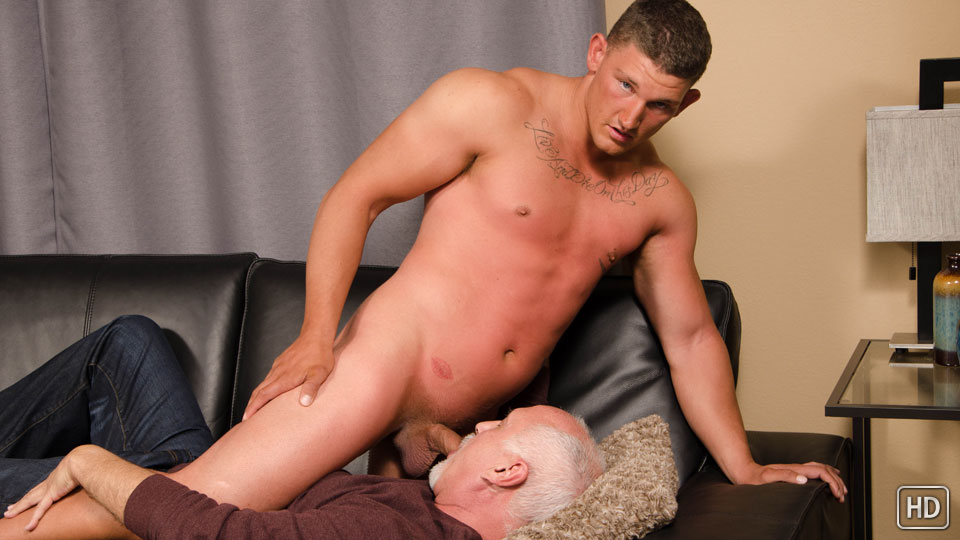 Watch the full scene:
Join Now!
It took some convincing (and a wad of cash) to get Avery to take the next step and get his dick sucked by a guy on camera. I promised him it would be a blowjob he wouldn't regret, either, since us guys know how to get things done the right way.
After he agreed, I thought, who better would be up for the job than my buddy, Jake Cruise? The Godfather of servicing straight men!
Avery showed up on the tentative side about what was about to happen. Jake put him at ease right away, working his magic by teasing back the zipper on Avery's shorts and complimenting him on his cock while getting him hard. Slow to respond at first, Avery put his hand on Jake's head, guiding his mouth down his cock.
If you've ever wondered what it would be like sucking off a nervous str8 Marine, this might be the "how-to" video. Even though Avery seemed conflicted by how good it felt and the fact that a guy was making it feel so good, Jake was determined to get this muscle stud off.
After getting face-fucked by Avery, Jake bent him over and buried his tongue in Avery's ass. I'm not sure if Avery had ever gotten rimmed before (not even by his wife), but he arched his back to spread open his cheeks and get the full treatment. I'd say he liked it.
Jake lay on the couch and had Avery straddle his face to finish him off. Avery thrust his hips, pushing his cock down Jake's throat and getting himself close. A few seconds later, Avery grabbed his dick and blew his wad right into Jake's waiting mouth.