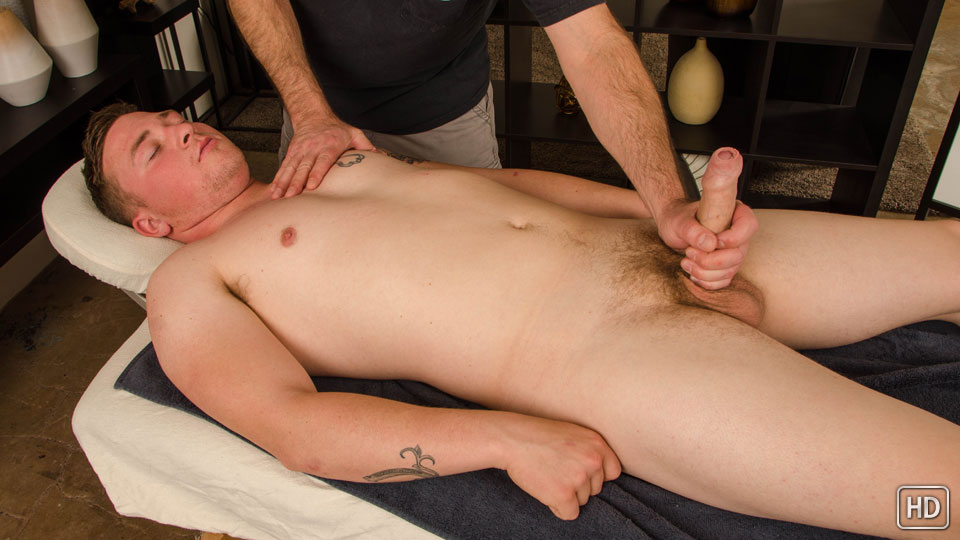 Watch the full scene:
Join Now!
When Wayne hit me up about doing another shoot, he wasn't too sure about a happy-ending massage scene. He'd gotten one before when he and a buddy drove to L.A. together, but that, of course, was from a woman and the thought of getting one from a guy gave him some pause. That is, until a bunch of bills started piling up and suddenly the idea making some cash getting rubbed down didn't sound so bad.
One thing was sure, Wayne was obviously horny. From the minute he came through the door I could see the bulge in his shorts and he kept fidgeting with his cock (right up to when the cameras were turned on). He'd ended up hooking up with a girl the night before, but blue-balled it so he could save his load for the shoot.
Once he was face down on the massage table, I wasn't sure how Wayne was going to react to getting his ass played with. The first time my hands made their way down his back, his butt cheeks clenched up. The second time, he relaxed and the more I rubbed his hole and "taint," the more Wayne's cock swelled up from between his legs.
Wayne rolled over onto his back with a stiff boner that he kept stroking while the cameras were being rearranged. I didn't want him to cum too quickly, so I took it slow, making sure to not push him over the edge. Even so, Wayne would periodically thrust his hips into my fist.
With his eyes tightly shut and his face getting flushed red, it didn't seem like it was going to take much to get Wayne to cum. He had certainly drifted off to a very happy place in his head. I started stroking his cock a little faster, and Wayne recognized his cue. He joined in by picking up the pace of fucking my my hands and within seconds coated his stomach in a thick load of cum.