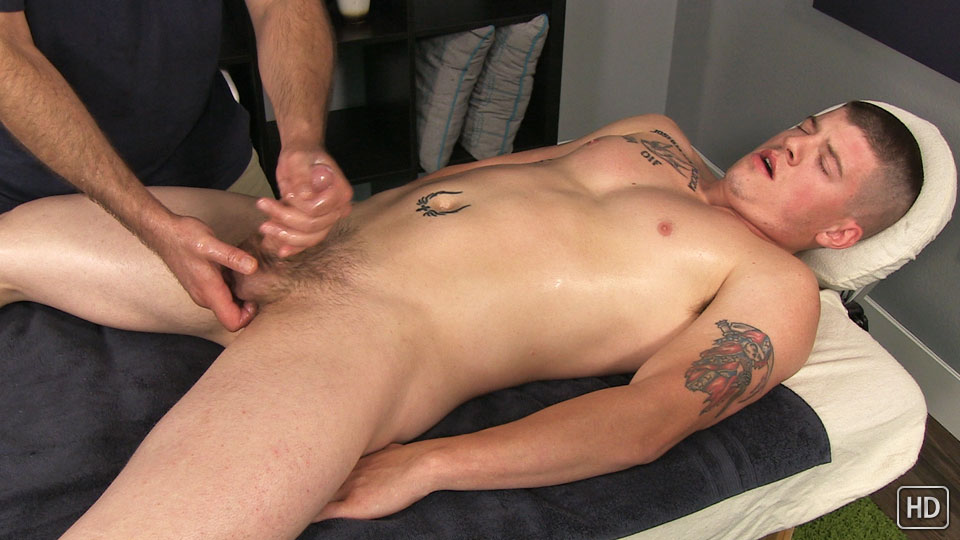 Watch the full scene:
Join Now!
Landon's back (with a new buzz cut)! After his "solo" shoot, I hit Landon up about doing a massage video. He seemed a little uncertain about it at first, telling me that he'd never gotten one before. He's an open-minded guy, though, and I'm sure the cash didn't hurt in pushing things along.
Lying face down on the massage table, Landon's perky butt was hard to ignore. My hands worked their way down from his back, just passing his ass cheeks at first, to eventually spreading his legs open and exposing his lightly-hairy hole. Who could resist planting their tongue down there? I certainly couldn't.
The night before about the shoot, I had asked Landon if he'd ever done any ass play, to which he said he hadn't. He'd heard that guys sometimes like it, so I casually mentioned that maybe we'll try it during the shoot and got a non-committal reply. Since rimming him didn't send him running, I poured some lube onto his hole and plunged a finger inside him. Landon's reaction was only to grab the sides of the table and arch his ass up; I guess he liked it!
Landon flipped over to give his front side some attention. Almost on cue, his dick suddenly got rock hard. I oiled up his chest, making sure to tease his cock with some slow passes of my hands.
Since there didn't seem to many boundaries so far (and again, who could resist?), I bent down and gave his cock a taste. That just made him get harder.
After finishing the rest of a full rub-down of his body, my focus went to his throbbing shaft that was waiting to explode. And the build-up was intense. Landon was writhing on the table, thrusting his hips toward my mouth. I tweaked his nipples a couple times which seemed to push him right over the edge. Gasping, Landon covered his abs in cum and sent a massive squirt flying toward his chest.
"Wow," he said in amazement, "I never shoot that far." Something tells me the finger I had up his ass had something to do with that. (wink)