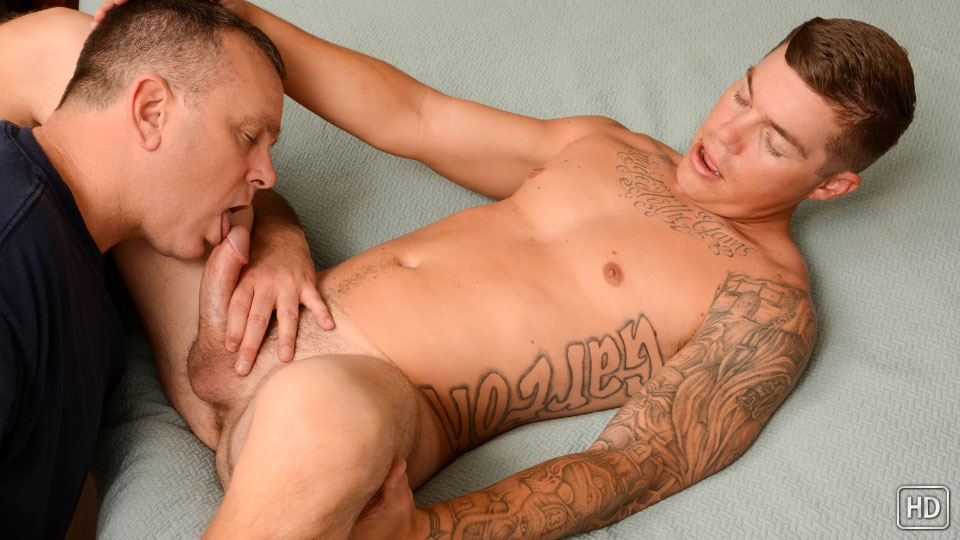 Watch the full scene:
Join Now!
It took Cliff about 5 years to come back and get a happy-ending massage last time. And I think even he was wondering why he waited so long to try his first time doing anything with a guy. If you saw that shoot, you'll remember that he ended up cumming twice, back-to-back. The second time was helped along with about a minute of getting his dick sucked which pushed him right over the edge.
When I asked him about coming back for another scene, it went a little like this:
"Am I going to get another blowjob? 'Cos if so, I'm down."
He added that he loves getting head, but most girls he's been with aren't very good at it. ("Duh!" was my response.)
Cliff held off for about a day from his normal 3-a-day jerk-off schedule in anticipation, too. Laying back on the bed, he suddenly opened his eyes at one point, telling me to slow down or he was going to cum too quickly.
It didn't take much to get him to the finish line when the time came. No fancy editing here; the build-up to the cumshot was pretty much in real time. And Cliff, who is normally kind of quiet when he busts, was left twitching and moaning as he dumped his load onto his stomach.
Tags: Oral