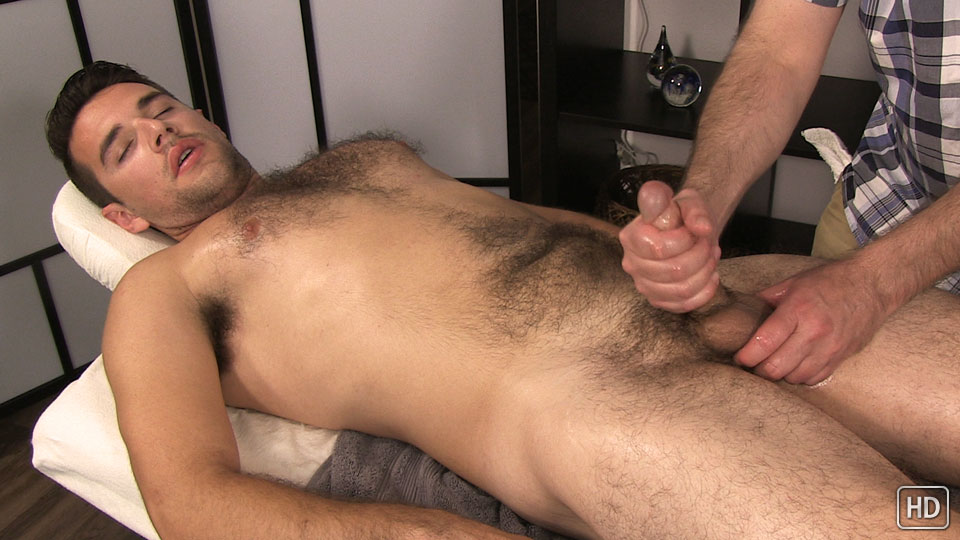 Watch the full scene:
Join Now!
Derek definitely took his time before deciding to take me up on the offer for a massage shoot. Not only has he never done anything with a guy before, but never even gotten a happy-ending, so there was a mental leap he had to make. Eventually, I got a text message saying he wanted to give it a shot.
He still had left his girlfriend and the guys in his fraternity in the dark about venturing into porn. Derek even said that he hadn't cum since the last time we had done a shoot. I wondered if his GF wasn't putting out and was at least part of the reason he popped up suddenly wanting to do the scene-- he was just horned up and needed to get a nut out!
Derek was little stiff when things got started, getting used to the idea that a guy was rubbing him down. When I pushed his legs apart, though, his cock was already getting hard from between them. When he turned over onto his back, it was standing at full mast.
Since it'd been so long since he last busted, I was careful not to make him cum too quickly. My hands slowly moved across his furry bod, just barely grazing past his shaft, occasionally giving it a tug or two.
When I finally lubed him up to go for the finish, it took practically no time at all to get him to the edge. Derek's breathing deepened and he quietly gasped, saying he was going to cum. Out poured thick gobs that dripped onto his pubes and ran down the side of my hand.