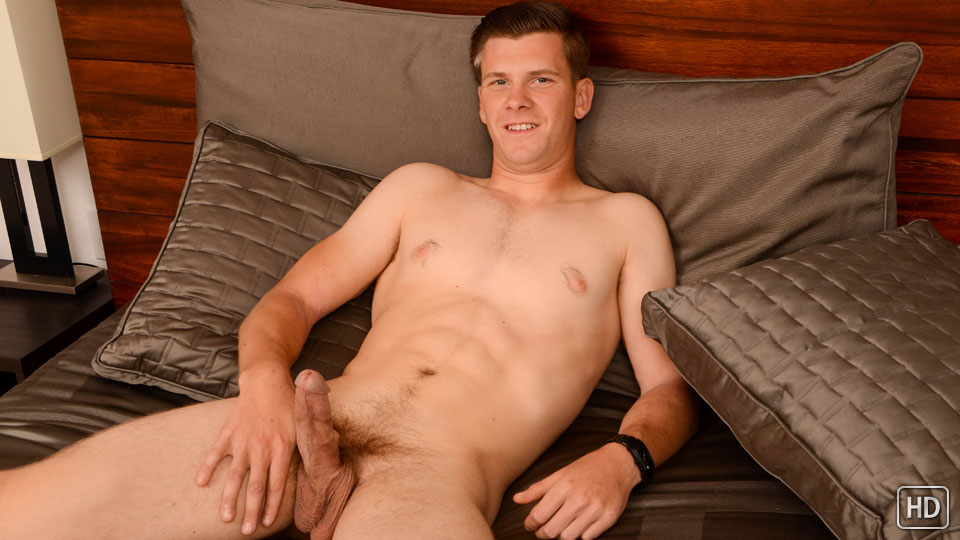 Watch the full scene:
Join Now!
Neal got handed a card and asked about doing porn a while ago. Even though he immediately seemed interested, it took months to finally get him in front of the camera. I guess it's safe to say that it was something he really wanted to do, but it took him a minute to work up the nerve and make the leap. He laughed, admitting that even though he hadn't told any of his friends about coming over for the shoot, they probably wouldn't be too surprised that he was getting naked on camera.
When he showed up, Neal still looked a little uncertain about what he was about to do. His dick, though, was way ahead of him, already half-hard when he pulled it out for the photos; Neal almost seemed embarrassed about being turned on by being photographed.
Not that he had anything to be self-conscious about. Neal has a tight bod and definitely isn't hurting in the dick size department-- a pretty thick 7 1/2 inches. (I was really glad to see that he'd taken my advice and grown his pubes in which he normally shaves off.)
Neal said he usually rubs one out once a day, but saved up "2 or 3 days" for his debut. Seemed to have worked! When Neal got the thumbs-up, it was just a matter of seconds before he was ready to blow. Neal gasped and twitches ran through his body as the cum pooled on his abs.
Watch carefully and you'll see the little smile that crept across Neal's face as he looked down at the mess on his stomach-- something told me he secretly enjoyed his time showing off his bod.