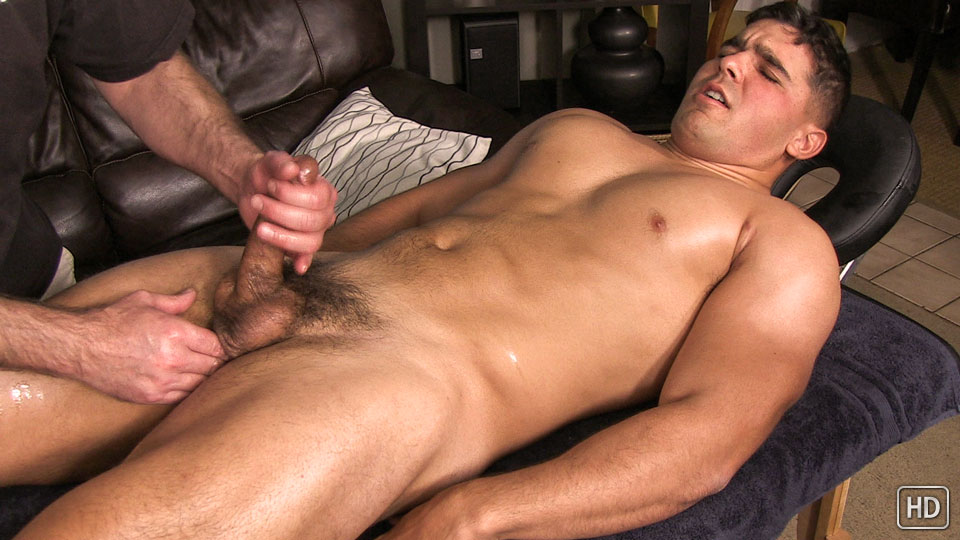 Watch the full scene:
Join Now!
Colt isn't a stranger to happy-ending massages. During his time in Japan, he took part in one of the local specialities, the "soapy" massage, which he admitted was "Just alright."
When I offered to try and one-up his previous massage, Colt took some time to think it over, primarily because he'd never done anything with a guy. With enough financial padding, he eventually made the leap... right up onto the massage table.
Colt's back and shoulders were tight from the workout he'd done earlier, so the rubdown seemed appreciated. By the time I'd made it down to his massive legs, Colt was starting to relax from any remaining nervousness he had about what lay ahead.
From between his legs, I could see Colt's dick start to get aroused. A few quick passes over it with my hands and he was fully hard. Colt rolled over onto his back and his cock was standing at attention.
After oiling up Colt's chest, I let my hands just graze past the shaft of his dick, teasing it while it throbbed in anticipation. By the time I lubed it up, wrapped my hands around it and slowly started stroking him, despite his cool exterior, the pulsations of his cock let me know that Colt was barely containing himself from cumming.
I rubbed Colt's chest while picking up the pace of jerking him off. His whole body responded by tensing up. Suddenly, Colt lifted his head slightly, let out a gasp, and exploded a week's worth of cum onto his abs.