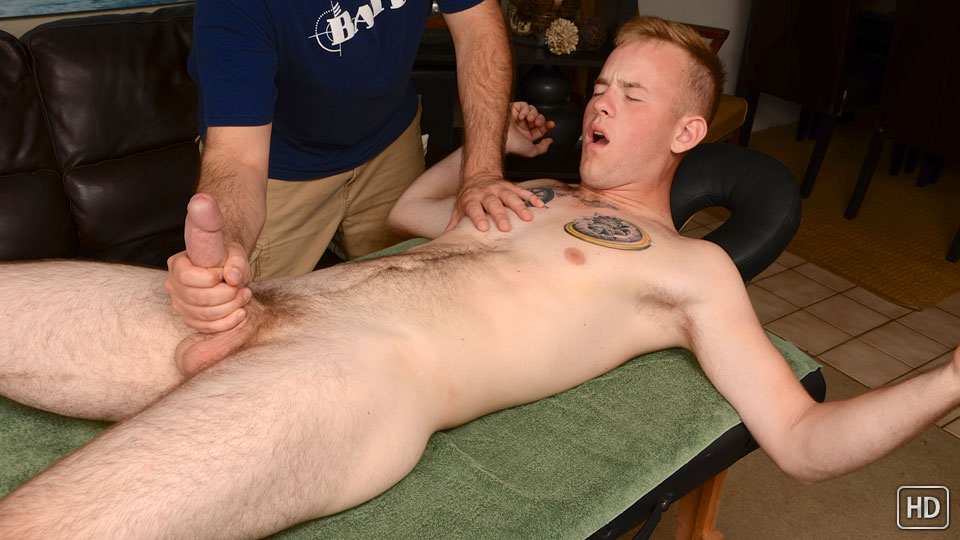 Watch the full scene:
Join Now!
Koury's initiation into porn last time ended with a bit of a surprise. After his debut shoot, I brought up the "happy-ending" massage video. Koury was down for it, but added that he wasn't too comfortable with having his ass played with, so I told him we could keep it to a minimum. Little did I know!
Up until now, Koury's only erotic massage experience was with an ex-girlfriend. This shoot was to become another day of "firsts" for Koury. As I lubed up his back and made my way towards his hairy ass, the throbbing dick poking between his legs was a big green light. And completely unexpected.
I pulled his fuzzy butt cheeks apart and buried my tongue into his hole. Koury responded by lifting his hips up to give me even better access! I wasn't going to pass up this opportunity, so I grabbed the oil and plunged a finger deep into his virgin Marine ass. Koury's cock grew even harder and I knew it was time to flip him over to finish him off.
Koury has a particular rhythm that gets him off and it was a tough one to figure out. What ended up working? Shove a finger up his ass and let him ride it while letting him fuck my mouth with his 8-inch cock. I left this video a little extra long for you fans of watching the build-up. And I think it was worth it. Koury's cumshot was even more intense than last time, shooting a load all over his abs.