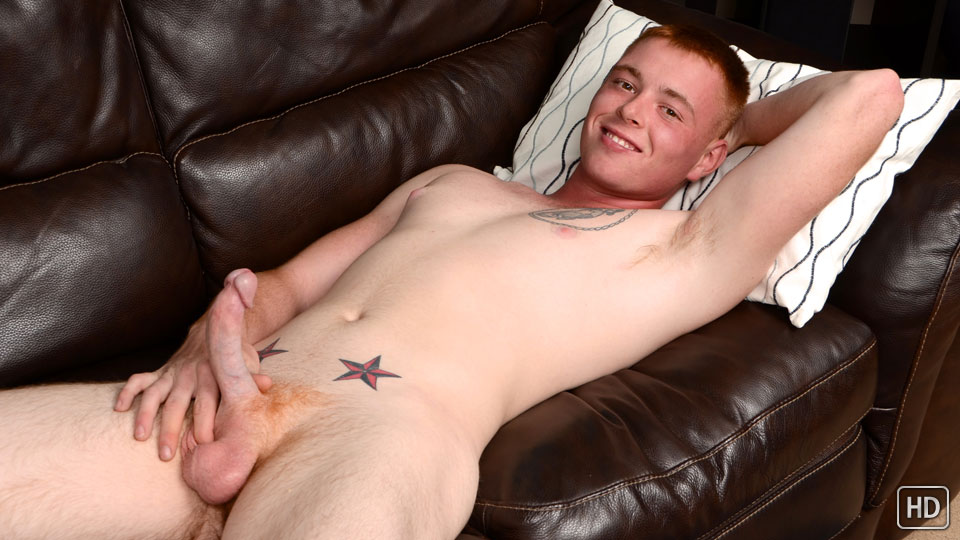 Watch the full scene:
Join Now!
Andy is a 21 y/o str8 boy who came to San Diego from the Midwest courtesy of the Marines. He'd been thinking about trying to get into doing porn for a while, but admitted that he didn't know where to start looking. So when a mutual friend approached him and slipped him a card, Andy practically jumped out of his clothes right there. His only concern was that his girlfriend might find out he was showing his dick to the world.
Andy is a ginger from head to toe (and every crevice between as you'll see). He's gotten used to his military buddies' teasing-- fire crotch, day-walker. He's heard it all, but had never before heard that it's a major turn-on for a certain crowd.
When he peeled his clothes off, Andy's cock was already standing at half mast. So, even though he had said he was a tad nervous about his first time in front of the camera, it seemed the excitement about it wasn't going to let nerves get in the way.
There's a slight curve to Andy's cock that I found hot, even if he was self-conscious about it. The harder he got, the more pronounced the curve got, and the more the head of it flared up like a red, pulsating mushroom cap.
Andy got the thumbs up to bust and started stroking faster, focusing on the head of his shaft. As he got closer to cumming, his face flushed and his low-hanging balls tightened up until his sticky load was covering his pubes.
Tags: Redhead/Ginger