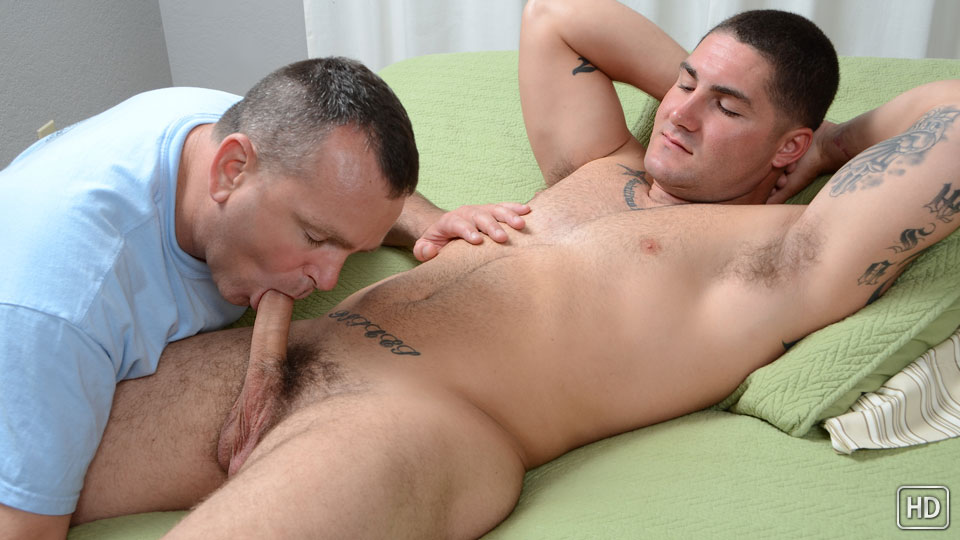 Watch the full scene:
Join Now!
Anyone who has seen Nicholas' videos knows this guy is a prime piece of beef. 5'9. 220 pounds. Big cock. Former football player. The guy is a walking fantasy. So imagine my excitement when he agreed to come back over and let me blow him (for the right price, of course).
I laid the stud on my bed and got him naked. He was getting stiff before I even got my lips around his cock. He took one of his giant hands and pressed my head further down on his rock hard shaft.
"You should start on my balls and lick all the way up," he suggested.
When I did, Nicholas had a big grin on his face. I took my time with him: using my hand to stroke him, rubbing his thick legs and chest, taking him deep into my throat, slipping a finger in his tight ass.
When I needed a break from choking on his pole, I threw his legs up in the air and started rimming his sweet hairy hole. Then, wanting an even better view, I got Nicholas on all fours. I spread his beefy cheeks apart so I could really invade his straight hole with my tongue. He moaned with pleasure as I tongue fucked and then finger fucked him.
For the grand finale, I leaned him back, sped up my strokes, and fingered him some more. Nicholas closed his eyes and moaned until a thick load of syrupy cum spewed out into my hand, my reward for a (blow) job well done.