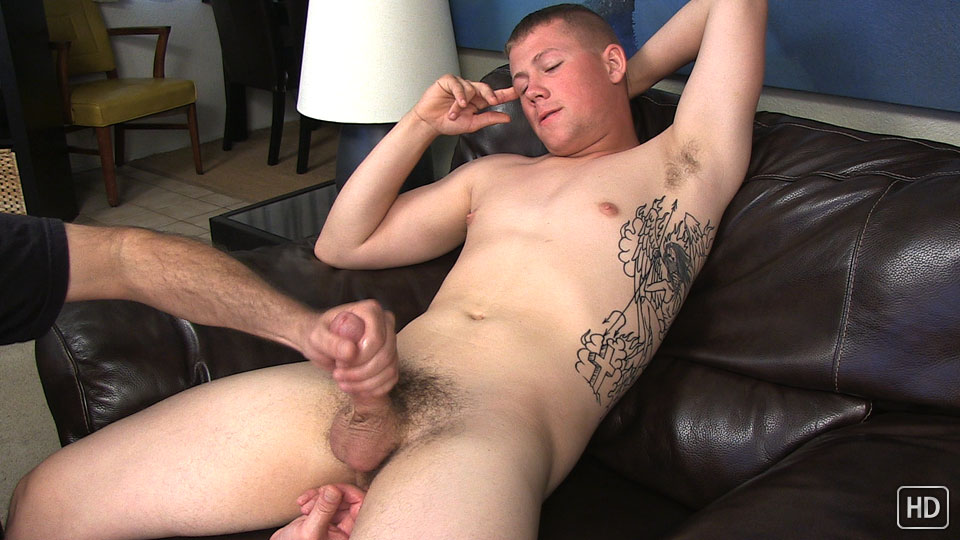 Watch the full scene:
Join Now!
Sean was referred to me by my buddy, "Major Wood." Sean had mentioned to him that he was looking for a way to make some money; the Major told him he knew a way!
Sean arrived a little tired from a night of partying, his jeans hugging his thick legs. "I'm awake," he said with a laugh. "Just barely." But as soon as he started talking about his sexual fantasy of having a threesome, Sean started to perk up.
He stripped his clothes off and revealed his smooth 18 y/o body, along with his own major wood, which was raring to go.
Sean leaned back and started jacking himself slowly, his big low-hanging balls filling up with cum. As his cock got harder and thicker, he stood up, showing off his meat. His bedroom eyes kept looking into the camera, as if he was daring me to help him out with the task at hand. I decided to roll the dice and see what happened if I reached in to help him out.
"How's that feel?" I asked as I grabbed his boner.
"Feels pretty good," he uttered with a hint of surprise in his voice.
After giving me a quick tease of his thick cock, Sean turned around on all fours for a perfect view of his bubble butt, covered with a dusting of blond hair. He stroked himself as he showed off his ass, once again tempting me to reach in and spread his cheeks, revealing a perfect pink hole. I asked if he'd be up for letting me jerk out his load for a little extra cash.
"Yeah. I'd be up for it," Sean slyly replied.
I milked his dick, measuring his cock, eventually working a finger up his tight ass to help him get over the edge. From the thick, creamy load of jizz that spurted out into my hand, I'd say this former football and baseball player had a pretty good first experience in porn. Sean definitely gave it a big thumbs up!
Tags: Helping Hand