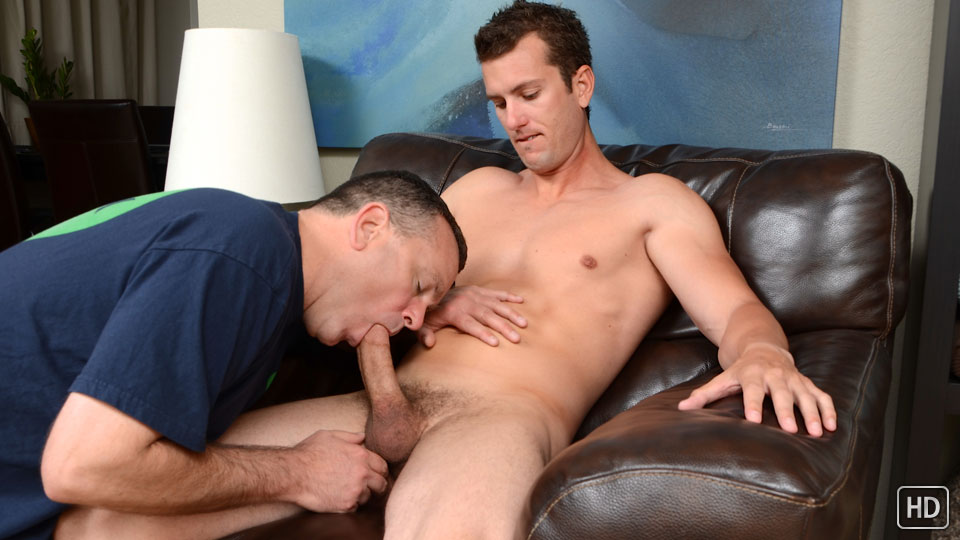 Watch the full scene:
Join Now!
When Tommy got in touch recently asking if there was a way he could make some more money, you just know I had something in mind. It took some finessing and, of course, a pile of cash, but he eventually agreed to let me blow him.
The first thing I noticed when Tommy showed up for his BJ scene was how sexy this guy is. The second thing I noticed was the outline of his cock behind his shorts. It was hard, and huge, and thick as a beer can, and I couldn't believe he had agreed to let me suck it. Kind of makes me feel like the luckiest guy in the world!
I got Tommy undressed, revealing every inch of his toned smooth frame, then went right to work on his dense piece of meat. I had to take short breaks from sucking that monster, but luckily licking his tight ball-sack gave me something to do when my throat needed some rest.
Tommy seemed nervous and excited about letting a dude blow him. He stared at the porn playing in the background much of the time, but, as you'll see, those sexy eyes kept wandering back to the front row action he was getting. Maybe he liked staring at another dude working him over. Or maybe he just liked staring at his own cock. Who wouldn't when their cock looks like his?
I told Tommy to stand up so he could tower over me as I continued to suck him, showing how defined his body is. And when he stood, he grabbed my head and pounded my mouth like a pussy, thrusting in and out of my mouth hard.
I started using my hand to get him off, stroking him and sucking him at the same time. With my other hand, I cupped his balls. I could feel them tensing up with hot jizz and could tell he was about to erupt.
"Ah, I'm gonna cum," he suddenly said, and grabbed my head to shoot in my mouth. Tommy came so much and so hard that he hit my eye, with an orgasm that seemed to go on forever. Just when I thought he was drained, Tommy spouted out more jizz, leaving my face covered in his hot spunk.