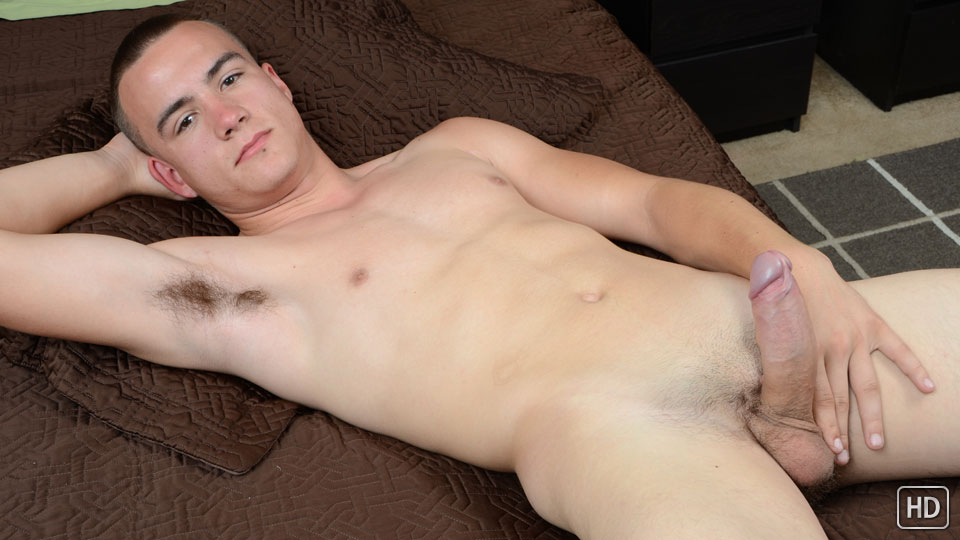 Watch the full scene:
Join Now!
Aaron is a 22 y/o str8 guy who I met through his older brother. He (Aaron's brother) and I had met a couple times and when he found out that I ran a porn site, he laughed a little and said that Aaron had mentioned wanting to give porn a shot. After seeing a couple of Aaron's pics, I knew I wanted to give him a shot in front of the cameras, too!
Aaron is a former Marine; just barely out of the military. He still has quite a tight bod and the regulation haircut.
He seemed a little nervous when he first showed up, but once he started getting undressed and was already sportin' a hard-on it was obvious that he was more excited than anything.
There was a flirtatiousness Aaron had once the cameras were pointed at him. He was certainly channeling his inner porn star and there were a few times during the shoot that he looked into the lens and couldn't stop himself from grinning, as if in disbelief that he was actually doing porn.
Aaron is uncut and hardly flinched when I reached in to give his foreskin a few tugs. Since Aaron said he'd never measured his own cock, I took that as an opportunity to pull out the measuring tape. (Just for accuracy and professional reasons, of course.)
Aaron had kept his hands out of his pants for a couple days, normally being a guy who jerks off at least once a day. The build up to his cumshot was an intense one as Aaron worked himself into a frenzy and squirted streams of cum all over his chest and stomach.
Tags: Uncut