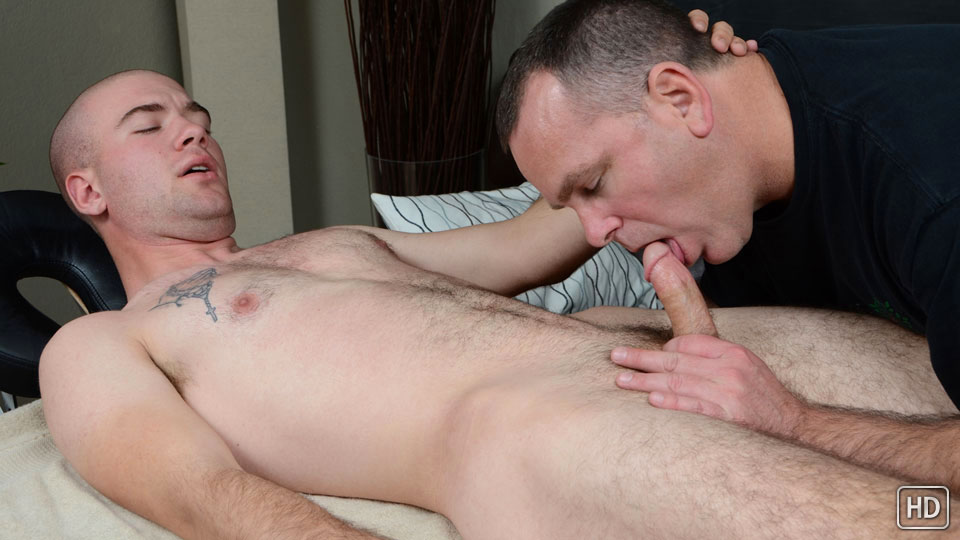 Watch the full scene:
Join Now!
Lance was on the fence about doing anything with a guy. The money certainly sounded nice, but, like a lot of the straight guys, the mental leap seemed to be the biggest thing holding him back.
We were talking after his solo shoot and Lance mentioned he had gone to some "late night massage parlors" to blow off some steam on a couple occasions. That was practically an invitation to ask him about getting a happy ending massage on camera. Maybe not exactly what he was used to, but close enough to be just within his comfort zone for his first time with a guy.
As the cameras started rolling, I slowly oiled up Lance's back, working my way down toward his furry ass. After spreading his legs and giving his cock a few rubs, Lance's body loosened up while his shaft was busy hardening in response to the teasing it was getting.
I don't think Lance thought getting rubbed down by a guy would turn him on as much it seemed to. He rolled over, already sporting a stiffy. My hands made some passes by, giving his dick a few rubs which brought it to full attention.
When I went in to lick his balls, Lance's head rolled back into the massage table. He looked down and nodded that that was doing the trick.
After sucking on him for only a few minutes, Lance stopped me and asked with a little concern in his voice, "How much longer do you need me to last?"
As I swallowed his cock and started working on it faster, Lance was buckling and squirming, practically about to fall off the table in a super intense build-up. At the last second, he gasped that he was about to cum and spewed all over his stomach and pubes.