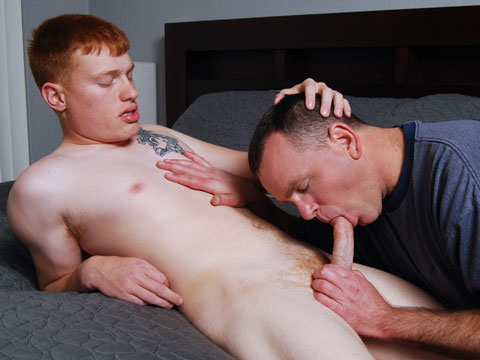 Watch the full scene:
Join Now!
Wade's curiosity about getting off with a guy was piqued when his solo evolved into a handjob last time he came over. I asked if he wanted to try getting a blowjob and he was visibly excited about the idea.
He and I both knew that getting hard wasn't going to be a problem. Wade's dick is, once again, standing at full mast before his zipper comes down. Just to be on the safe side, though, Wade had passed up having sex with one of his girlfriends and had a 3-day load stored up.
Seeing how quickly he busted after playing with his nipples last time, I made a mental note to try it again. It seems to be the magic button. Just one little tweak and Wade loses control and busts a load all over my hand only a few minutes into the shoot.
"No problem," he says. We took a 10 minute break and Wade comes back to blow a second load!
Tags: Oral, Redhead/Ginger