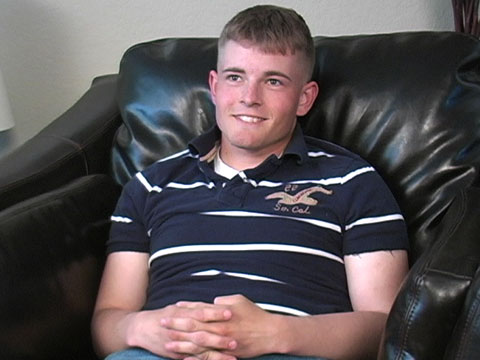 Watch the full scene:
Join Now!
Lance got in touch recently, saying he's been wanting to do porn for about a year-and-a-half. He's a cute guy so I thought I'd give him a shot in front of the cameras.
He's 20y/o, a little on the shorter side standing 5' 5" tall, and a bit on the stocky side. He says he came out to San Diego from the Midwest, "Just to see the views," but his tattoos and haircut kinda give away what really brought this small town boy to the city. We'll just say it was "work related."
Lance has also started exploring his guy/guy sexuality lately and in the process found the magic button in anal stimulation. He said (off camera) that he's bottomed a couple times, and it seems (on camera) that he likes to stick a finger up there when he's jacking off, too.
I'm not sure we'll be seeing Lance again, but if you're into baby-faced, stocky Irish dudes with explosive cumshots, you might want to check this one out!
Tags: Blond, Stocky/Husky, Auditions