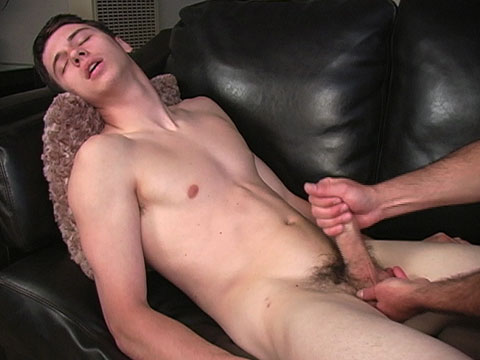 Watch the full scene:
Join Now!
Corey is a pretty open-minded straight guy. When I asked him about getting a handjob, he just shrugged and said he was game. He's one of the few guys on the site who didn't take much convincing to let another guy jerk him off.
I knew I had my work cut out for me, though. His jack-off style is fast and furious, and it takes a while for him to cum. But I'm not one to back down from a challenge.
Being 18 and a horny dude in general, Corey's uncut cock was standing at attention before his shorts came down. He seemed intent on watching the porn playing in the background, but every so often his head falls back and his eyes shut as he gets into enjoying the ride.
If Corey is quiet early in the shoot, his cumshot makes up for it. He throws back his head and and blasts a big "fuck yeah!" load that flies all the way up to his neck.
Tags: Helping Hand, Big Cumshot, Uncut