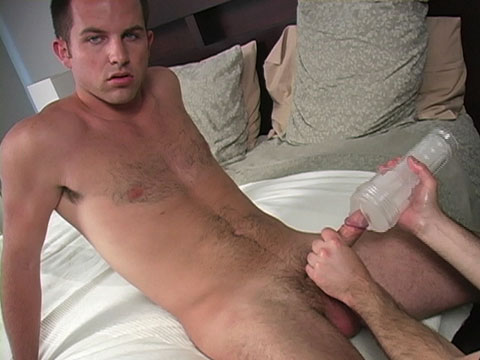 Watch the full scene:
Join Now!
When Mason heard about the Helping Hand videos, it was actually him who asked if it was something he could get in on. He has an adventurous side to him that borders on bi-curious. There are definitely some blurry boundaries in his sexuality.
Once the cameras started rolling he was ready to go before his shorts even came off, with a big hard-on waiting just behind the zipper. He had mentioned wanting to try a FleshJack so I made sure to have one handy. His dick swelled up even more when I slid it inside.
Mason started out fairly quiet and kept his eyes locked on the porn playing in the background, occasionally glancing down to watch his cock getting worked over. As things went on, though, he started letting go and getting into the moment. Once he flipped back over after having his ass played with, all the barriers were gone.
He started playing with his nipples and telling me to "go faster" until he unleashed a blast of cum all over his stomach while moaning and writhing all over the bed!
Tags: Helping Hand, Hung, Hairy