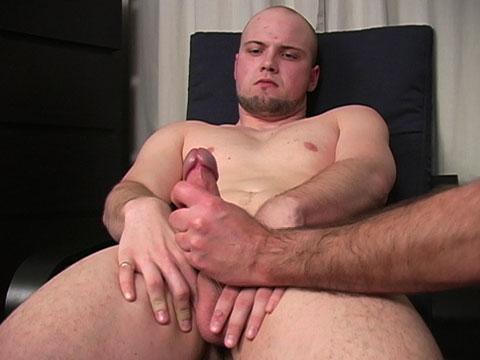 Watch the full scene:
Join Now!
Tomcat is one of those straight guys who's fairly open-minded about the idea of another guy getting him off, but it took some convincing before he was ready to make that leap. I got a phone call from him one day saying he was going to be in town and that he wanted to try getting his first handjob.
He has a unique way of jerking off so I knew there would be a challenge getting him to bust. He must have known that because he gave some coaching on how he likes it done: slow and steady up the shaft, working the head.
Tomcat has a nice fat mushroom-tipped cock. It gets really swollen when he's getting close to cumming. I saw that starting to happen about half way through the shoot when he stopped me saying I needed to slow down or he was going to blow too soon.
I took it down a notch and 'edged' him while playing with his ass. But when he does cum the load shoots off the side of the chair, nearly hitting the other camera.
Tags: Helping Hand, Big Cumshot, Hung