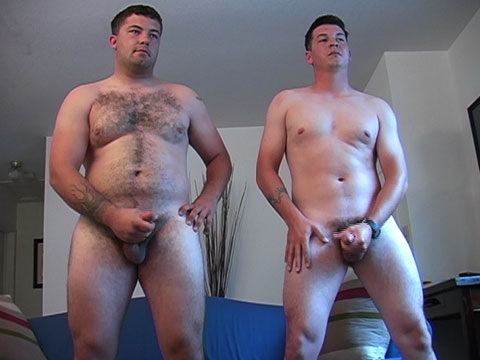 Watch the full scene:
Join Now!
A couple days after Goose did his solo shoot he called up saying his Marine buddy, Fizzle, was interested in doing one, too. What I didn't know was that Goose was going to come along for the ride. When they showed up together, we got to talking and they decided to make a little more cash for doing a side-by-side jerk off video.
Fizzle is a big bear of a dude. He and Goose have worked together for a few years, but never thought they'd be doing something like this. After a little joking around about not telling the other guys about jerking off together, the pants came off and they got to work.
I had the guys stand up and shoot out onto the coffee table. Fizzle drops a nice thick load, and Goose, who saved up for 3 days, blasts a massive cumshot that covered the tabletop!
Fizzle also has a girlfriend who apparently knew he was coming over to get naked on camera. She sent him a text in the middle of the shoot asking if he was, "done yet?" and I left that and another outtake in at the end of the video.
Tags: Duo j/o, Big Cumshot, Hairy, Stocky/Husky, Auditions