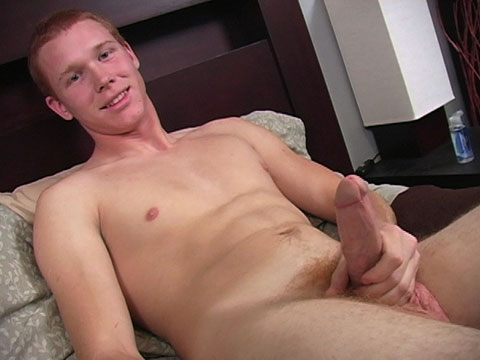 Watch the full scene:
Join Now!
There's something really hot about redheads. When I saw Tim walking home from one of the local universities, I just couldn't resist giving him the "How'd ya like to do porn?" line. Since he was needing some cash at the moment he decided to go for it, but thought it would be best not to tell his girlfriend he was showing his dick to the world.
Tim just graduated from high school where he was a track athlete. He's 18y/o and in his first year of college. He's a tall, lean dude, standing at 6' 2" with blue eyes and had a nice surprise when the jeans came off: a full patch of firey red pubes below the belt. It's a great accent to his thick cock and set of low-hanging balls.
A lot of the guys showing up on the site are a little nervous for their first time getting naked on camera, but Tim was probably one of the more nervous. I had to leave the room a couple times to let him focus on the porno playing, and his eyes are locked on it for most of the shoot. Still, once he got into his zone, he blew a big load that flew up to his nipples!
Tags: Hung, Redhead/Ginger