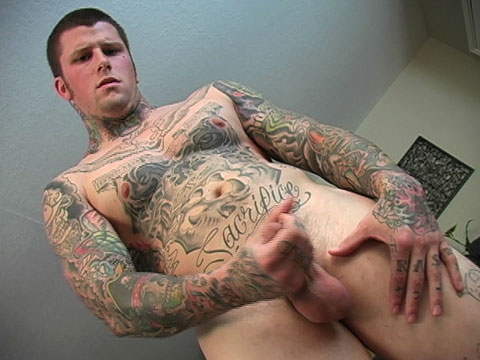 Watch the full scene:
Join Now!
Seth is the kind of bad-boy you'd be a little afraid to meet on a dark street. Let alone ask him to get naked and jack off for you. Despite the tough exterior, he's a nice guy who, luckily, likes showing off his stuff on camera.
And why not? Seth says he gets naked all the time to show off the tattoo on his dick to his friends. He's also a bit of an instigator and says he's talked most of his buddies into jerking off with him.
As Seth puts it, "They've got a dick. I've got a dick. We all jack off. Why not do it together?"
Definitely, words to live by.
Seth is 24, straight and, obviously, likes getting inked. I had him take out his Prince Albert piercing which left a decent-sized hole in his dick. The plus side to that is that his cumshot exploded everywhere like a 4th of July fireworks show! I swear, I'm still finding cum drops from his shoot.
Seth seemed open to trying something with another guy, so you might see a little more of him down the road. He's an eyeful with all the tats, but I hope you'll like him.
Tags: Muscular