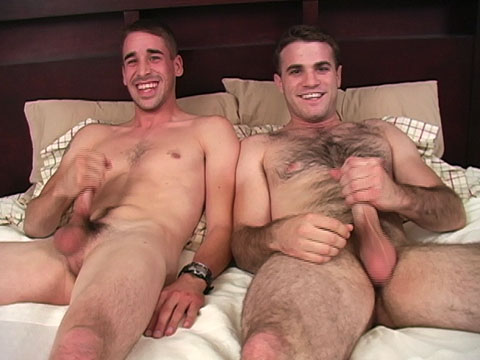 Watch the full scene:
Join Now!
Rocko, the hairy dude on the right, and Brandon are best buds from the Marines. A mutual friend who throws special "Military Only" parties introduced us. I had them narrow down just one story from those parties to share in the video. Something about strip dancing with another Marine for a group of girls on a party bus. Lucky bunch of girls.
Brandon is 24; Rocko is 22. Both are straight. Despite all the naked parties together, this is their first time ever jerking off side-by-side. There's a bit of joking around, so this one probably falls into the "fun and hot" category.
I got the guys to flip over and show off their asses. Rocko's is, no suprise, nice and furry, and Brandon's is smooth and hairless. Once they flipped back over, though, both had raging hard-ons. And, to be honest, so did I!
Rocko has the bigger dick between the two and he busts a creamy load onto his pubes. Where Brandon falls a little behind Rocko in the dick size department, he definitely out-does himself in the cumshot, blasting a massive load that flies out and nearly hits Rocko.
Tags: Duo j/o, Big Cumshot, Hung, Hairy