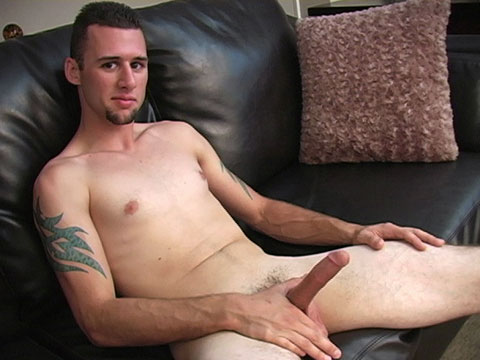 Watch the full scene:
Join Now!
Daniel is one of those smaller-framed guys who was blessed with a big ol' cock. I'm not sure how that happens, but sure am glad it does!
Daniel is 22, a California native, and straight. Although he's messed around with a guy at least once before, so obviously there's some wiggle room in the boundaries. He's got a tight body and some of the biggest brown eyes I've ever seen.
This started out like any other jerk-off video on the site, but things went down a different path when Daniel said he wanted to watch me jerk off while filming him. I left those outtakes in the video. You'll see his eyes dart back and forth between the porno playing on the TV, over to me, and back to his own cock... like he was deciding what was turning him on the most. Whatever it was that pushed him over the edge, he blows a big, juicy 2-day load all over his stomach.
It was another guy on the site who introduced us, and we talked about possibly hooking them up for a shoot, so with some luck we'll see Daniel's big cock getting worked over by a dude not too far down the road.
Tags: Hung