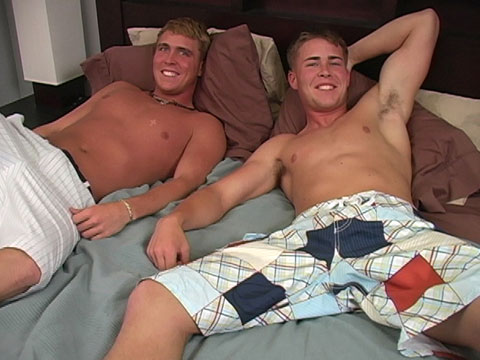 Watch the full scene:
Join Now!
Robbie called shortly after his first shoot to say that his little brother, Jesse, wanted to do one, too. When they showed up at the door it was like seeing double, they look so much alike. I couldn't let this opportuntity pass by, so wIth a little convincing (and some extra cash) they agreed to do the video side-by-side!
They've gone out "cougar hunting" together and on more than a couple occasions have ended up in 3-ways with their prey. This is their first time jerking off next to each other, though. There's no touching, but there's plenty of peeks at each others' cocks going on between them.
Jesse was fairly nervous at first and must have gotten caught up in the moment because his cumshot snuck up on him. Luckily I was standing by with the camera. And Robbie, the more "experienced" of the two, comes through with another big load all over his stomach.
Tags: Duo j/o