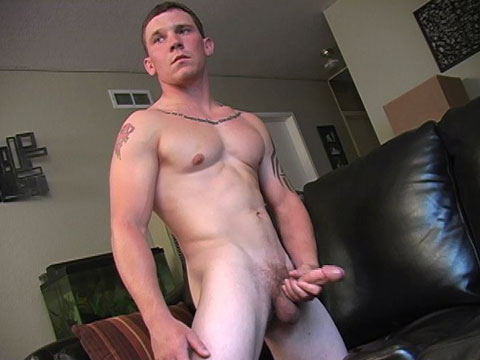 Watch the full scene:
Join Now!
Chad is one prime piece of Military beef. He's a Search and Rescue Swimmer with the Navy and came out to San Diego from the east coast. He didn't tell his girlfriend he was coming over to get naked on camera, and I promised I would keep it on the D.L. He just laughs, "Yeah, right."
Chad says he's pretty wild and likes it rough: spanking, pulling hair, scratching, and having sex in... umm... unusual places.
"I had sex in that... what's that golfball-shaped thing at Disney called?"
"You mean the Epcot Center?"
"Yeah! I fucked a girl in there once."
He's got a great body and totes a big ol' 8-inch cock between his legs that looks GI-NORMOUS on his 5'7" frame. He was actually concerned that it wouldn't be big enough for porn. Just for the record (wink wink) I made a point of measuring it.
And if you think Chad's arms and dick are big... just wait till you see the cumshot.
Tags: Big Cumshot, Uncut, Hung, Muscular